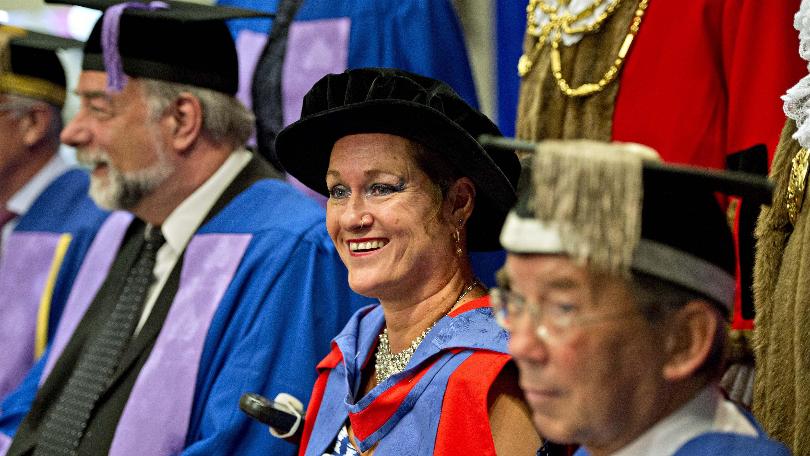 Artist and University of Brighton graduate Alison Lapper has received an honorary doctorate for her contribution to the arts and as an ambassador for those with disabilities. She was awarded a first class BA(Hons) Fine Art degree in 1993 and exhibits work internationally.
Professor Bruce Brown, Pro Vice-Chancellor (Research), in presenting the award, described Alison as a "Titan of the human spirit" and a force for everything that is good.
He said: "Alison's creative intelligence has served to challenge and change our notions of physical beauty, normality, disability and sexuality."
Despite her significant challenges, he said, academics at the then Brighton School of Art, particularly Bill Beech, recognised Alison's talent as foremost above all and "removed every obstacle standing in the way of her ambition to become an independent fine artist – if not a famous one."
Born without arms and with shortened legs, Alison uses photography, digital imaging and painting to question physical normality and beauty. A member of the Mouth and Foot Painting Artists of the World, Alison has used her body as subject matter for artworks and in one she put herself into the image of the world's most iconic symbol of femininity, the Venus de Milo. She said she was "completely overwhelmed" as she accepted the honour to a standing ovation from the audience at yesterday's graduation ceremony held at the Brighton Dome.
"I never thought or imagined in all these years that I would be back here to receive this amazing honour."
She said she had promised herself she would not become emotional but there were tears as she praised those who had helped her in her career, including university staff, from caretakers to lecturers.
"The fact that I came away with a first class degree still blows my mind. I never felt like I was the only disabled student, although I was. I was able to do everything everyone else did."
Ms Lapper is known around the world for her work but claims her son Parys, who was in the audience, is "my greatest piece of art work and creation".
There is a host of individual student successes stories at this year's graduation ceremony including Design and Craft BA(Hons) graduate Camilla Lambert who won a top award for young designers and has been described as "one of Europe's most exciting craft designers" and Charlie Schaffer who graduated in Fine Art Painting BA(Hons), who beat a field of 2,000 entrants to win the Lynn Painter-Stainers Prize, Young Artist Award 2014.