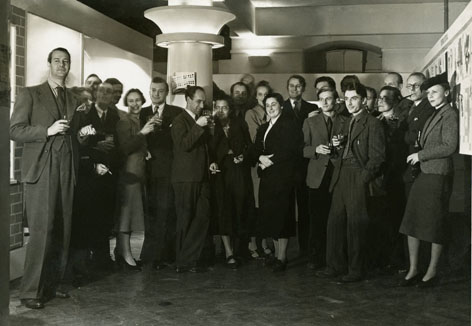 Image: Natasha Kroll and other Reimann School staff, c. 1938.
A new article by Design Archives curators Lesley Whitworth and Sue Breakell has been published by the Journal of Design History. Introducing the archives of five émigré designers held at the Design Archives, it indicates their rich potential in the under-researched field of émigré design.
The designers - Willy de Majo, FHK Henrion, Natasha Kroll, HA Rothholz and Bernard Schottlander – all migrated to Britain in the 1930s, contributing to the growing influence of continental modernism on design practice in this country. The piece encourages new areas of research engagement, bringing the Design Archives collections to ever-wider audiences.
The article is available online to journal subscribers as part of the OUP Advance Access scheme.
It will be published in a future hard-copy issue of the journal.
For further information about recent work on the Rothholz and Henrion archives, see:
http://arts.brighton.ac.uk/collections/design-archives/news/headline
http://arts.brighton.ac.uk/collections/design-archives/projects/f-h-k-henrion-research-seminar