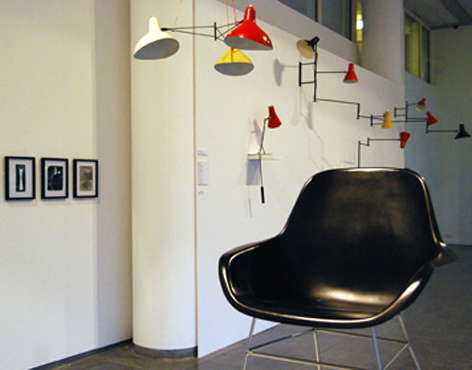 A joint exhibition project between the Henry Moore Institute, Leeds and the University of Brighton Design Archives, this retrospective of Bernard Schottlander's work explored the overlaps between his sculpture and design, and traced how the elegant interior forms of his furniture and fittings were transposed into public sculpture. By taking his work outside, into the plazas created by the high-rise office blocks of the post-war years, he created a type of urban furniture which evolved from his work indoors.
Drawing on the Henry Moore Institute Archive and the University of Brighton Design Archives, the exhibition featured largely unknown design and sculptural work and offered the opportunity to compare his output in both disciplines. The display also documented Schottlanders role in the debate which raged during the late 1960s about the appropriate form and settings for public sculptures and culminated in Peter Stuyvesants 1972 City Sculpture Project to which Schottlander contributed.

Bernard Schottlander (1924-1999) was known as a designer before he gained recognition as a sculptor. One of the many German Jewish immigrants to Britain, arriving at the onset of war, his early training as a welder and plater was supplemented by evening classes in sculpture at Leeds College of Art. While maintaining this interest Schottlander went on to study industrial design at the Central School of Arts and Crafts in London before setting up a small business manufacturing his own designs. The simple forms and primary colours of his sophisticated designs appealed to post-war architects and throughout the 1950s his work was included in the Council of Industrial Designs Design Review. Schottlander produced ash trays for the National Theatre, chairs and lamps. His Evening Standard news-stands were used for decades - instant classics which soon became ubiquitous. Despite this recognition, in 1963 Schottlander made a switch to becoming a full-time sculptor and had his first solo show at the Architectural Association, London in 1964. Numerous public commissions followed and now his work can be seen all over Britain, from the University of Warwick to London and Milton Keynes.

Exhibition dates:
Henry Moore Institute, Leeds 23 September 2007 6 January 2008
The University of Brighton Art Gallery 14 January - 9 February 2008
Curated by Catherine Moriarty and Victoria Worsley.

Essays by the curators were published as no. 56 in the Henry Moore Institute essay series.

Image: Installation at the University of Brighton Gallery. Photo by Barbara Taylor