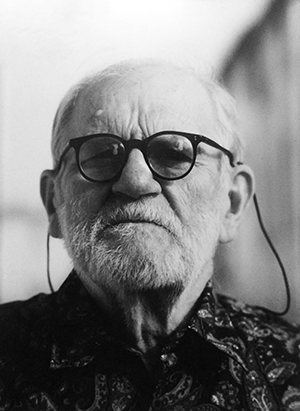 Architect and Planner (1914-1944)
Following his family's move from their Yorkshire home to London in 1930 Thomas Gordon Cullen attended the Regent Street Polytechnic (now University of Westminster) where he studied architecture and draughtmanship and showed much promise, in spite of being blind in one eye. Fellow students included another future Royal Designer for Industry (RDI) Jack Howe. Although he never qualified, Cullen secured work in 1933 as an assistant to the architect Raymond McGrath, before working with Godfrey Samuel and the Tecton Group from 1935. Cullen also belonged to the MARS group and assisted Berthold Lubetkin with his pioneering buildings, including the Finsbury Health Centre for which Cullen also designed the entrance hall mural (now lost). He also worked on, and rented a flat at Highpoint II, Highgate before becoming a freelance architectural artist. As he was medically unfit for military service when the Second World War broke out Cullen instead designed factories and Ministry of Information exhibitions, before going to Barbados with the colonial service in 1944 to plan self-help housing and schools in the British West Indies.
On his return to London in 1946 Cullen joined the staff of the Architectural Review where, as Assistant Editor, he collaborated with Hubert de C. Hastings on the creation of The Bride of Denmark bar in the basement of their office. In 1947 he published a pioneering pedestrianized proposal for Parliament Square, 'Westminster regained' and he also produced a special edition of the Architectural Review in 1955 - Outrage – as the result of his observations following a trip with the architectural critic Ian Nairn. In 1959 he acted as a consultant for the Ford Foundation on their Delhi regional plan before moving to the village of Wraysbury, Buckinghamshire, where he designed their village hall and served on both the parish and the district councils.
As well as acting as a consultant for civic design Cullen also produced many conservation and redevelopment plans, including a new town at Maryculter in Aberdeen that was never built. He also promoted an approach to civic design that led to his book Townscape published in 1961. Translated into several languages and retitled The Concise Townscape, it has become a standard text for urban development. Although he continued to write and act as an influential planning consultant, and was elected an Honorary Fellow of the Royal Institute of British Architects in 1972, it was only when he started his own architectural practice in 1983 that he really began to realise his own theories, from Docklands in London to Edinburgh and Glasgow.
Cullen's skill as an architectural illustrator was greatly admired and he received many illustrative commissions such as the 1943 County of London Plan; Kynoch Press's 1940 diary and the 1955 Cambridge Christmas Book, as well as some studies of the State Apartments at Windsor Castle.
One of five members of the Typographic Panel responsible for the co-ordination of the lettering style employed at the Festival of Britain in 1951, Cullen was in charge of all external public lettering on the South Bank. He was also commissioned to design modern pocket gardens for the terrace outside the Homes & Gardens pavilion.
Shortly afterwards Cullen was commissioned by Erno Goldfinger to paint a mural in the reception area of Westville (now Greenside) Primary School in Shepherd's Bush, and he also designed a ceramic mural for Coventry depicting the city's history and its post-war regeneration (1958). When he was appointed a Royal Designer for Industry (RDI) in 1975 Cullen was preparing a travelling exhibition to promote visual literacy both in this country and abroad. The following year he was appointed CBE for his contribution to architecture.
Described as modest and self-effacing, with an impish humour, Gordon Cullen was dubbed 'Mr Townscape' in the tribute issue of Urban Design and Townscape (October 1994).
Cullen died in Slough at the age of 80 on 11 August 1994.
Britain Can Make It Exhibition Catalogue 1946
Cullen is featured in the Britain Can Make it Exhibition catalogue as follows:
Group D: Books and Printing - items 73, 128
To learn more about the work of Gordon Cullen, his relationships with other designers, and further resources, visit the
Exploring British Design
prototype web portal.
Further reading
Mira Engler, Cut and Paste Urban Landscape. The work of Gordon Cullen (London: Routledge, 2016)
Image courtesy of Cullen family archive.