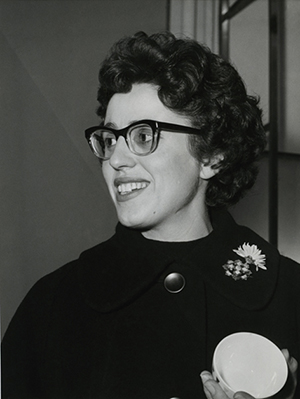 Textile designer (1928-)
Audrey Levy was born in Nottingham in 1928 and after studying textiles at her local art college, completed her studies at the RCA.
On graduation, Levy worked in a number of professional studios. In 1957, she designed, 'Impasto', a screenpainted wallpaper for The Wall Paper Manufacturers Ltd., (WPM) which received the Council of Industrial Design's 'Design of the Year'. A year later, the 'Phantom Rose' design she produced for the Palladio Scheme at Wallpaper Manufacturers Ltd (WPM Ltd) again won a CoID design award. In the third range she designed for WPM Ltd's Palladio scheme, she 'created ambitious painterly murals such as Maze and Treescape, as well as smaller, textual patterns such as Pebble', (Jackson, p.107). Levy also designed carpets and ceramics. In 1959 she was selected by T G Green & Co. Ltd, a pottery company, to design a new pattern for them. She also modified the shapes in the range. A photograph of the Harlequin range was illustrated in Decorative Arts , 1960-61 (pp.69, 81). Several examples of Levy's work as a wallpaper designer are in the permanent collection of Whitworth Art Gallery. She was a Fellow of the Society of Industrial Artists and Designers and in 1964 she helped judge the Design Centre Awards alongside the journalist Katherine Whitehorn, architect and designer Neville Ward, and George Williams, Chief Executive of the British Railways Design Panel.

Further reading:
Lesley Jackson, 20th Century Pattern Design, 2006, p.107.
Audrey Levy, 'Thoughts on Design', Prospect: The Schwepps Book of the New Generation, 1962.
Original image reference: GB-1837-DES-DCA-30-1-POR-L-26-3