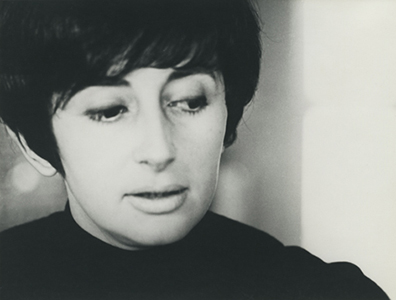 Textile Designer (1930-)
Born in 1930, Albeck attended Art school in Hull when she was 16 and then the RCA in 1950.
Work: Before leaving the RCA, Albeck was 'discovered' by the head of Horrockses Fashions, Jimmy Cleveland Belle, who asked her to come to work for them when she graduated. Albeck worked there from 1953-58, producing many designs for furnishing and dress fabrics such as Venice Fish Market and Fruit and Stripe Design, which was chosen by Sir Hugh Casson for his office curtains at the RCA. In 1958 she left Horrockses to work freelance and designed this Plum wallpaper for Sandersons Centenary in 1960. It was commissioned by Wyndam Gooden, Professor of Textiles at the RCA. In 1959 she worked at Fergusons as a design consultant. In the 1960s, she did a lot of work for Cavendish Ltd, the production company for John Lewis. This included a range of tea-towels, furnishing and dress fabrics. The Daisy Chain print, which was inspired by William Morris, was a best seller at John Lewis for 15 years. During the 1960s, she also worked for Osman Textiles, Palladio Wallpaper and produced children's fabrics such as Noah's Ark for Sanderson. In the 1970s, Albeck began what was to become a longstanding association, designing for the National Trust. In the 1980s, she continued working for John Lewis and Sainsburys.
Further reading:
Christine Boydell, Horrockses Fashions: Off-the-peg Style in the 40s and 50s, 2010.
Original image reference: GB-1837-DES-DCA-30-1-POR-A-7-1