Our History

Most widely known for his archaeologically informed visual reconstructions of early historical settlements which did much to popularise historic sites and buildings, Alan Sorrell worked in a variety of artistic disciplines from large scale murals to book illustrations, as well as a period as a commercial artist after the First World War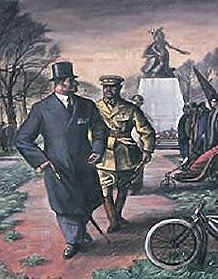 Welcome, associates, friends and supporters
Welcome to our 'Hall of Fame', a chance for us to celebrate the successes and lives of those who have contributed to and been influenced by the College of Arts and Humanities, Brighton.
Here you will find tributes to our past students, past staff, our friends and supporters going back to the early days of the Brighton School of Art in the nineteenth century and looking forward to the developing careers of our more recent members.

Today and throughout its history, the faculty's staff and students have made a significant creative and educational contribution to the arts, design and humanities both within the region and internationally.
These were first compiled in 2009 when we celebrated our 150th year. You can enjoy the history compiled in 2009 in the College of Arts and Humanities' anniversary book also in an online version on this site.

The collection on this website is only the start of our project to build a living history and an online community that transcends creative generations.

Through these pages, we aim to bring to life the collective influence, quality and breadth of talent that has contributed to our development and to create the vibrant and inspiring place it is today. We sincerely hope you will wish to join us and contribute to our project to celebrate not only our long and prestigious history but also to help us build our future.
We want to hear from you and invite you to add your profile and your best images to our site and to our esteemed list. We hope you will also keep in touch with the Brighton Graduate Association – the official alumni association for all former students of the University of Brighton and all its predecessor institutions.
We will also ensure that you are kept informed of the events and activities that we hold during the year, that include exhibitions, performances, lectures, conferences and of course the graduate show as well as the opportunity to enrol in specialist short courses and Continuing Professional Development (CPD).
Please submit your own profile for inclusion in our alumni pages

browse the alumni pages | search the alumni and history pages