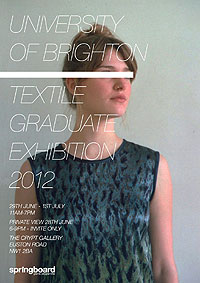 Welcome to The University of Brighton Fashion & Textiles student work website 2012.
Showcasing the outstanding breadth of work produced by students graduating in 2012 from the University of Brighton Faculty of Arts in fashion design, knitted, printed and woven textile design.
The fashion and textile design showcase includes students graduating with BA(Hons) or MDes level degrees.
See more from the University of Brighton Faculty of Arts departments of fashion and textile design. http://arts.brighton.ac.uk/fashiontextiles