AHRC Project (AH/L504014/1)
Principal Investigator: Prof. Gillian Youngs (University of Brighton)
Research Fellow: James Byford
Project Outline
This project is focused on the development of and research on a new start-up support programme for innovators at Wired Sussex.
The work follows on from the Brighton Fuse project's findings on arts, humanities and design knowledge and expertise as major drivers in businesses in the Brighton creative and digital cluster.
The Fusebox Knowledge Exchange project aims to connect academic approaches to learning with entrepreneurial business strategies aimed at creating value.
The research represents a practical and applied way of exploring innovation, how it happens, and where academic expertise and insights can be instrumental in creating business value.
The project's knowledge exchange approach also recognizes the importance of the cross-flow of insights from the new creative and digital business sector into the academy.
This can enhance arts and humanities researchers' awareness of the roles of their work in economy and society and different forms of creativity aimed at generating value within them.
As well as offering insights for other incubator and related contexts, the project also aims to inform curriculum developments in areas such as informal, flexible and continuous learning.
These orientations and practices from the entrepreneurial work and culture of the Fusebox enabled by the new economy are strong elements that can feed back into arts and humanities.
Evidence Briefing and Report
Following on from the findings of the Brighton Fuse report, the FuseBox24 project examined in further detail the conditions necessary to accelerate innovation in the Creative, Digital and IT (CDIT) sector, a strong and growing part of the UK economy.
The FuseBox24 project found that CDIT innovators:
Trade in ideas and content, but tend not to worry about protecting intellectual property – open innovation and collaborative approaches dominate.
Often as sole traders or micro-businesses need shared spaces in which to collaborate with others to develop ideas.
Need support, capability and new tools to enable them to get the most out of collaborations for sustainable innovation.
The FuseBox24 findings demonstrated that arts, humanities and design approaches are highly effective in meeting these needs.
These results were presented at the Fusebox 24 Showcase event on 22 January 2015. Below, you will find the full Fusebox24 Final report, the Fusebox24 Evidence Briefing and the presentations at the Fusebox24 Showcase. The presenations include the keynote presentation from John Newbigin, OBE, Chair of Creative England as well as presentations from Principal Industry Partner Phil Jones from Wired Sussex, the Fusebox24 Principal Investigator Professor Gillian Youngs, Research Fellow, James Byford and Artist in Practice, CiCi Blumstein. Finally you will find presentations from some of the live projects that have benefited from talking part in the Fusebox24 project.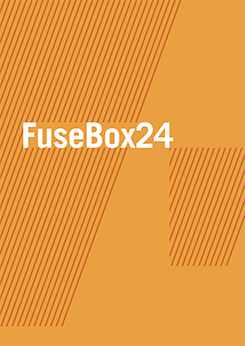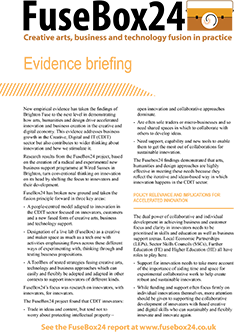 John Newbigin, OBE - Fusebox24 from Arts Brighton on Vimeo.
Phil Jones - Fusebox24 from Arts Brighton on Vimeo.
Professor Gillian Youngs - Fusebox24 from Arts Brighton on Vimeo.
James Byford - Fusebox24 from Arts Brighton on Vimeo.
Mum Power and Me - Fusebox24 from Arts Brighton on Vimeo.
Long Runs Works - Fusebox24 from Arts Brighton on Vimeo.
MakerClub - Fusebox24 from Arts Brighton on Vimeo.
Loop.Coop - Fusebox24 from Arts Brighton on Vimeo.