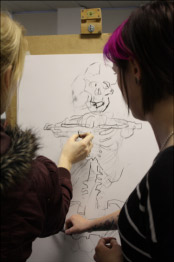 A cross-disciplinary project between the Faculty of Arts and the Sussex Medical School. The researchers are: Patrick Letschka, Phillipa Lyon, Tom Ainsworth and Inam Haq from The Brighton and Sussex Medical School.
Drawing is an explicit or tacit part of many design processes and is also used extensively in other disciplines. There has been a long-established role for drawing both in the learning and teaching of art and design and in Medical education, going back to the anatomical drawings of Leonardo da Vinci and the illustrations used by Vesalius.
Though drawing's representational function waned in the twentieth century, there has been growing interest in what drawing is and does: as gesture, mark, notation; as observational, generative of thought and creative idea, communicative; deploying different media; engaging with, and confronting or expressing, states of being, themes, issues. Part of this growing area of study is the educational significance of drawing.
The 'Craft and Medicine: collaborative drawing' research project, a partnership between the Faculty of Arts and Brighton and Sussex Medical School, was based on the experience of drawing's power as a process and its potential in interdisciplinary learning. Qualitative research was carried out into an optional 8 week drawing module for 3rd year Craft and Medicine students, examining the educational impact of collaborative and experimental drawing processes themed on the human form. Students also participated extensively in reflective discussion of their drawing experiences.
Combining observation, transcript analysis of audio recordings, questionnaires and interpretation of photographic and video data, the research team carried out detailed analysis of significant themes. Findings highlighted the development of specific abilities in 'critical looking', with potential applications for future studies and professional practice in both Craft and Medicine; the use of mark-making as a means of communicating information, exploring, thinking about and developing ideas, and investigating and expressing multi-sensory experience; and students' significant and positive explorations of their disciplinary and pre-professional identities through drawing .
Further information and the full text of the research report on the Collaborative Drawing project can be requested from Philippa Lyon (CRD).