DRIG is a focus for staff and postgraduate students to share and examine different approaches to drawing research, through discussion of texts and images, workshops and exhibitions. Convened in the Faculty of Arts, drawing researchers from across the university are welcome. Contact:
Philippa Lyon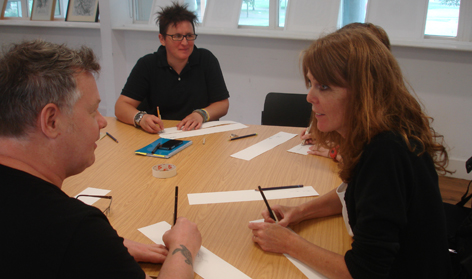 Drawing and research planning workshop, held as part of the Faculty of Arts research festival, July 2013
Utility of the Line exhibition 2014
Curated by Philippa Lyon and Martha Turland
Featuring work by: Louisa Buck, The Collaborative Drawing Research Team (Philippa Lyon, Patrick Letschka, Tom Ainsworth and Inam Haq), Gavin Fry, Jackie Lightfoot, Jeremy Radvan, Curie Scott, Francis Wells, Fiona Wilson
This exhibition was organized around a common interest in the line's utility among members of the Drawing Research Interest Group (DRIG). We consider drawing as an arts practice, a research method and as having multiple interdisciplinary applications.
The potency of the line can result from ancient or contemporary technologies of mark-making. Yet there is sometimes a sense in higher education that drawing is lodged in a pedagogical past, when observational drawing formed a core part of art school training. For the exhibitors in this show drawing has a long tradition, but it is one that continues to evolve, investigate and inquire into new areas. The process of drawing continues to be crucial in exploring a wide range of issues. As artists, makers, research students, researchers and lecturers we are concerned with the significance, practice and potential of drawing, whether with lines or dots, in clay or textiles, on paper or through software programmes and performance.
Drawing can be a practice that holds our attention in contemplation and which, as a finished piece, asks the viewer to dwell on issues of temporality and perception. It can provoke questions about bodily and metaphysical disturbances, for example, in relation to memory and identity, or medical and surgical communication. A cluster of research carried out by DRIG members investigates the relationships between drawing practices in different professions and in cross-disciplinary education. This cluster has grown through a collaborative research relationship with the Brighton and Sussex Medical School and with medics and surgeons elsewhere, as reflected in some of the work in this show.
Team projects
DRIG sessions for the 'Totally Yurt' project
The 2 week Yurt project in the Grand Parade quad in the Faculty of Arts was the result of a bid from the Fine Art and Performance Art areas. The focus was to build staff relations and develop creative thinking in teaching, learning and research. As part of the timetable of drop-in seminars, conversation and activities over the two week period, DRIG ran three sessions designed to stimulate thinking and debate amongst drawing researchers, as well as offering a place for creative activity for Fine Art/PAVA staff and students generally. These were: a showing of the film Cave of Forgotten Dreams, directed by Werner Herzog (2010) about the Chauvet Cave paintings in Southern France; and two life drawing sessions guided by Patrick Letschka, one of which was accompanied by Conall Gleeson on viola. The model was Libby Hannelle and photographs are by Tom Ainsworth.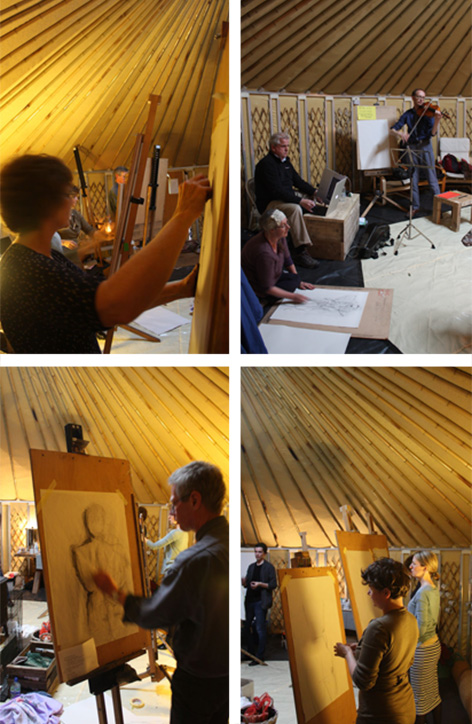 Craft and medicine: collaborative drawing as a pedagogical tool
This project is a partnership between the Faculty of Arts and Brighton and Sussex Medical School, examining the educational impact of collaborative and experimental drawing processes themed on the human form. Both learning and research take place through the Human Body Form module, which is offered to both Craft and Medicine students. Research team: Lyon; Letschka; Ainsworth; Haq.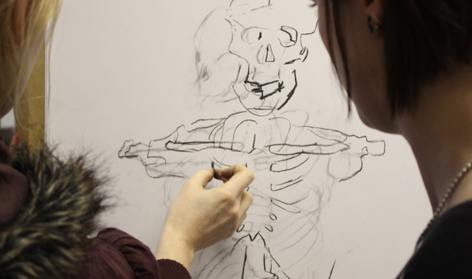 Medical student and Craft student collaborating on drawing during the Human Body Form module 2012. Open access research article.
Drawing conversation video: drawing in craft and surgical practice
This video looks at the meaning and uses of drawing within two particular areas of professional practice. Researchers at Brighton were keen to find out more about why and how some craftspeople and surgeons draw. The participants use both dialogue and live drawing to exchange and demonstrate their ideas. Research team: Lyon; Letschka; Ainsworth; Haq.
Drawing Conversation from Philippa Lyon on Vimeo.
Video featuring Senior Critic in Furniture Design, Chris Rose, and Consultant Hand Surgeon, Donald Sammut, in conversation about drawing.
Informal clinical drawing
Drawing sometimes takes place within clinical consultations and exchanges, either between care professionals and patients, or from one health care professional to another. This research project will explore how these drawing practices might be better understood by exploring their sequential nature and their relationship to more formal 'illustration'. Research team: Turland; Lyon.
Informal drawing made during the clinical encounter
Individual research interests and activity
Louisa Buck (PhD)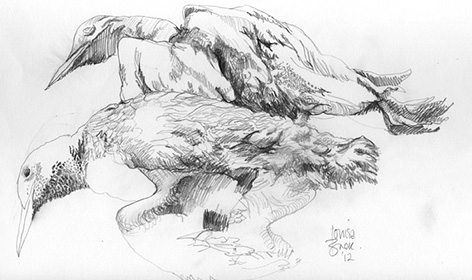 I am carrying out a critical investigation of the uses and meaning of Greek mythology in the work of British political cartoons. The 'practice-based' aspect of the research will be concentrating on modes of interpretation and perception: design decisions and authorial intent that create narratives from the basic stories, that can make the use of Greek Mythology so adaptable in explaining modern phenomena.

Duncan Bullen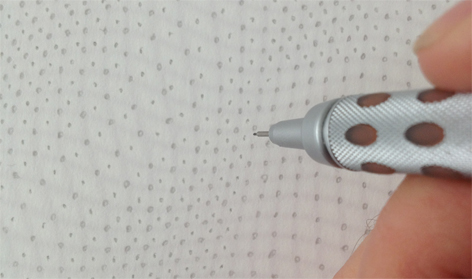 I make drawings as a way of slowing down both the activity of making and of visual perception. The process of drawing is reduced to the elementary activity of making one mark after another in predetermined sequences. Employing both haptic and computational methods of construction, each work is developed through a methodical production and characterised by repetition and stasis.
Gavin Fry (PhD)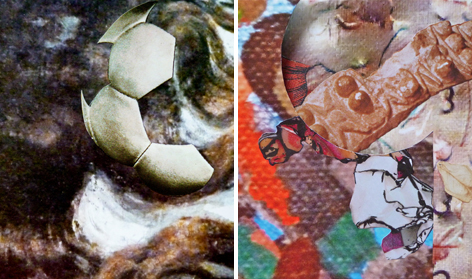 Mens' art textiles in Britain 1980-89: a critical study of textile art practices. This practice-based project uses drawing and collage as an active documentation tool to investigate apparent subversions and disruptions made to the formal grammar of textiles.
Jackie Lightfoot (PhD)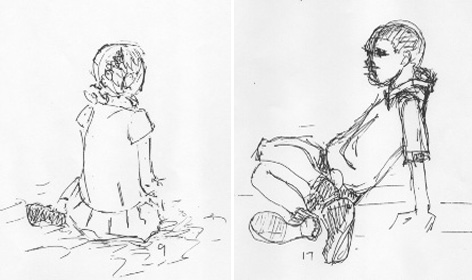 The drawings are observational studies forming part of a wider visual documentation of primary school pupils working in class. Produced in 2006 (Central St Martin's) and 2013 (University of Brighton) I use them to inform and inspire the design of educational furniture from a human-centered perspective.

Drawing from life lets me edit what I see down to the essentials. Lines made using ink on paper capture the children's frequent movements and sometimes my indecisions. I have to work at speed sometimes resorting to a diagrammatical approach to capture a sequence of movements. There is no room for other thoughts; drawing from life is a form of meditation for me.

As a designer I also use drawing, sometimes digitally, to explore form and space.
Sam Lynch

The standard process of drawing architecture contains many contradictions; the temporal distance between the imagined and real building, the 'translation' of exploratory drawings into construction documents, the assumptions of inhabitation and programme. In practice these contradictions are absorbed by the historical tradition of representation that projects (and predicts) an unfolding in time. The imagined temporality is held within this framework and is submissive to the conceptual assumptions of those involved; assumptions that often remain unchallenged. Through a rigorous exploration and unfolding of the creative process, I believe there exists the potential to discover not only a prospective way of developing a more engaging architecture, but a way to question the flexibility of the architectural drawing by means of a critical temporal construct; a construct that is active within the drawing process itself.
Jeremy Radvan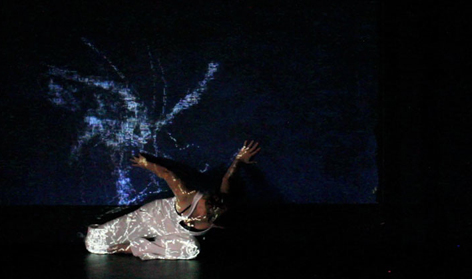 My research is concerned with the relationship between drawing and time and the way in which computers allow that to be expressed in a unique way. My work has involved collaborative performance projects with dancers and musicians that involve projecting drawing into the performance space. These performances involve the use of drawing applications that are written using the processing platform.
Dr Curie Scott (PhD)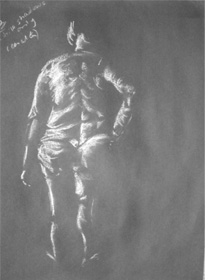 I am from a scientific background with a degree in Pharmacology and Medicine. My first life drawing experiences were startling as 'something happened' within me as I drew. On reflection, I realised this was because I had seen and palpated bodies at close quarters as a doctor. This medical knowledge and experience was transferring onto the page.
My research extends this reflective aspect of the drawing process. I am researching into the use of drawing to explore people's perceptions of ageing. My participants are students on a Health Professional programme and people over 60.
Helen Waddington (MRes)
How is the representation of failure present in deceptive artworks? The research I am undertaking in this project stems from investigations in my own art practice involving the development of a fictional character called I. and how he is present in my work through exhibiting pieces that represent his findings and surroundings in the world. My research question explores deception in art and how artists and writers explore the importance of what happens in a performance or exhibition and also what doesn't happen.
Fiona Wilson
My research is based around the writing of Marcel Proust, whose works are about flawed memory. I have been looking at ways of portraying this partial recall, through drawing, clay, and film.
I work with ceramic, because it is a material which can warp and change in the same way as our memory. Having drawn into the surface, I then look at ways of interrupting the translucency with the use of different glazes. The results explore a journey between clarity and opacity. Drawing also demonstrates the link between the idea and the end product.
For more information on individual drawing researchers at Brighton: