Home » Projects archive » Brighton 'Waste House' » Research and education » Green Pavilion
Green Pavilion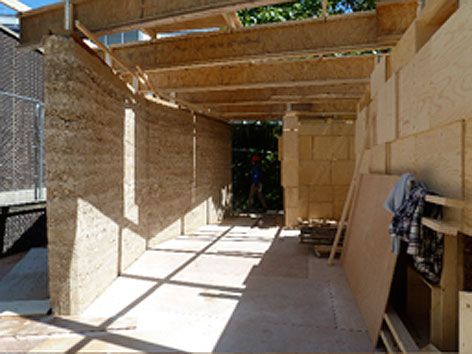 Since the start of the House That Kevin Built initiative at Brighton, each year as part of the summer graduate show, the students from Architecture and Interiors at the College of Arts and Humanities have constructed a pavilion in the Grand Parade campus quadrangle. It is used to display graduate work by the architecture students and forms a statement of their practice and research skills as well as their closeness to the further research of their tutors and the wider faculty.

Building the pavilion encompassed experimental elements of green architecture provided practical experience for the College of Arts and Humanities students. Designed and planned by architecture lecturers Glenn Longden-Thurgood, Tony Roberts and Kate Cheyne the pavilion was made from rammed chalk and earth, stacked timber and straw bale walls supporting a lightweight roof.

The walls of the structure have been constructed using different sustainable techniques: the rammed chalk and earth wall, which remains throughout the year as a permanent feature, was cast in a formwork container using re-cycled ply/timber as shuttering. Versions of the structure have included a stacked timber wall fabricated from used shuttering ply; and a wall made from stacked straw bales, made by knitting each bale to its neighbours with hazel 'stitches'.

Recycled materials were donated in 2011 by Sir Robert McAlpine Ltd from their nearby Amex construction site and from a University of Brighton development in Falmer. The project also received engineering advice from Tom Bedford of BBP Consulting Engineers Ltd.
In 2012 the eco-friendly pavilion will be made of curved timber and the students researched how best to bend continuous lengths of wood to create the structure, the pavilion's final shape and design evolving in response to what the group learned in their experiments. They teamed up with David Saunders of the Woodland Enterprise Ltd who was interested in working with them to innovate in finding uses for UK timber species from woodland managed by coppicing.

Read more about the Green Pavilion project 2012

Read more about University of Brighton Green Pavilion project 2011