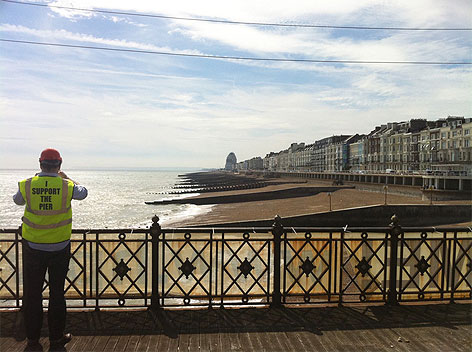 The student run Brighton Interior Architecture & Architecture Society (BIAAS) is pleased to announce a talk by Alex de Rijke of dRMM on the 24th January 2012 at 5pm in the Main Gallery in Mithras House.
As the founding Director of dRMM, Alex has presented dRMM's work in Europe, South America and Asia on the relationship between design concepts and emerging construction types, especially advocating engineered timber. dRMM are architects for the redevelopment of Hastings Pier which has been the site for the first term of third year architecture studio this year with students working to a similar brief.
De Rijke has taught widely, including at the AA and RCA. He is also active as occasional critic, lecturer, and guest professor, as architecture design advisor, and photographer. At dRMM, de Rijke focuses on design innovation. He combines leadership of expanding practice with research into new materials and modern methods of construction. Alex has pioneered cross-laminated timber panel construction in the UK Norway and Australia. As of January 2012 Alex will be the Dean of Architecture of the Royal Collage of Art in London.