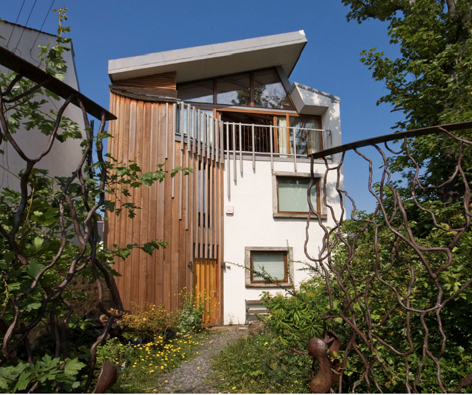 A day of illustrated talks on self-build and custom build housing. Come and be inspired.
Self-build housing presents a sustainable solution to the UK's housing crisis. Insufficient investment in the built environment has left many people unable to buy or rent affordable housing. The opportunities offered by self build, enable low impact and cost effective housing, which is tailored to meet an individual's or family needs.
Hosted by Brighton Permaculture Trust, Green Architecture Day is an inspiring day of illustrated talks by designers, practitioners. Professionals will showcase cutting-edge sustainable building techniques for aspiring self-builders. From passive design to straw bale construction, Green Architecture Day is an educational and inspiring event tailored for an individual wanting to build an affordable home, to a co-housing group seeking to create a community space.
Caroline Schofield of Brighton Permaculture Trust said: "Self-build construction creates a unique opportunity, to not only address our housing crisis, but also to implement sustainable, low-carbon architecture, that is affordable and energy efficient. With local authorities tasked with setting aside land solely for the purpose of self-builds, Green Architecture Day will illustrate how building your own home is an accessible option for the average person."
The day starts with Duncan Baker-Brown, introducing self-build and custom-built housing, including an overview of the groundbreaking Waste House recently built at the University of Brighton Faculty of Arts. This is an A+ rated house built in six days and heralded as the UK's first low-energy pre-fabricated house made from eco-friendly materials.
Jon Broome, who has designed cutting edge eco homes for over 30 years, will set the context for the day, describing the growth of self-building in the 20th century, and will share his experiences of cooperative, shared ownership and co-ownership models within Europe and elsewhere.
Daren Howarth will follow with updates on the global Earthship network and share his experiences of the construction of the Brighton Earthship community centre and the more advanced Brittany Groundhouse, as featured on Grand Designs.
Many of the benefits of self-build and low-impact construction are not widely known. Tony Wrench, author of Building a Low Impact Round House, will discuss what he learnt building his own off-grid roundhouse, which he designed and built for a total cost of £3,000. Jake White will speak about the Curly House, a near Passivhaus dwelling on the South Downs Way.
Bee Rowan, one of the UK's foremost straw bale construction experts, will talk about the benefits of working with natural materials. She will explore how straw bale buildings with good passive design offer climate change mitigation, are low-cost and carbon neutral, yet highly durable, offering healthy living spaces for individuals to community groups.
The day will host an extensive bookstall from Permanent Publications, selling books by the featured speakers, including the soon to be published, Compact Living.
Living in the Future - Lammas, a 50-minute film, will follow the talks, to share the inspiring story of how nine families created the UK's first planned eco-village in Wales. The film highlights the urgent need to access affordable housing and how we can renew our relationship with the land through low impact architecture.
Green Architecture Day offers a unique opportunity for people, to learn about low impact living, the cost benefits of self-build or simply an opportunity to hear inspirational experiences from the UKs most innovative and cutting edge architects. In order to attend Green Architecture Day you simply need to register online. Green Architecture Day includes a trip to the Waste House and is followed by the Film: Living in the future - Lammas. The film must be booked separately by registering online.
Concessionary rates are available to people in receipt of means-tested benefits. Individual talks cannot be booked separately. Fees to attend all the talks are from £30-£75.
Continuing Personal or Professional Development (CPD) accreditation is available for this course/event which is accredited by the CPD Certification Service. Brighton Permaculture can issue a certificate on completion of the course/event.
For further inspiration, why not attend Brighton and Hove 2013 Eco Open Houses held over two weekends: 15–16 and 22–23 June 2013.