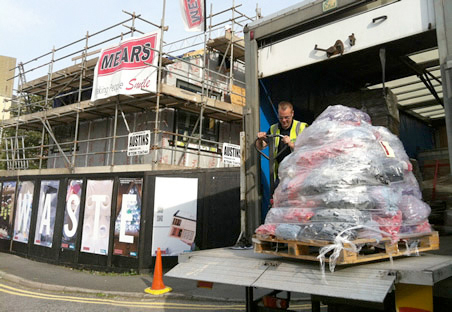 Image: Toothbrushes from Gatwick airport arriving at the Brighton Waste House

Gatwick Airport has donated more than 20,000 used toothbrushes to help the University of Brighton Faculty of Arts build Britain's first house made almost entirely from waste.
The toothbrushes, given away to business and first class passengers, are being slotted into wall cavities to help with insulation in the house which is being built in the grounds of the Faculty of Arts campus.
The project is being backed by TV designer and presenter Kevin McCloud who, with University of Brighton lecturer and architect Duncan Baker-Brown, worked on a similar build in London for a TV programme in 2008.
The toothbrushes were sourced by Cat Fletcher from Freegle which promotes keeping usable items out of landfill and which is finding waste material for the Waste House.
She said: "We discovered there are millions of toothbrushes collected and thrown away by airline passengers after just one use. This is a terrible waste and we are grateful to Gatwick for allowing us to recycle them."
Ms Fletcher has also found 1,000 vinyl banners that were heading for landfill sites. These are being used as internal vapour control layers and damp proof courses. Old video cassettes are also filling wall cavities.
Project architect Duncan Baker-Brown has called for more buildings to be made from waste rather than from materials that damage the environment and he has criticised governments around the world for encouraging people to rely on rapidly-depleting fossil fuels.
Mr Baker-Brown said more companies were donating to the Waste House project and showing their commitment to a more ethical approach to building. Companies include:
Mr Baker-Brown said the Waste House was now watertight and is expected to be completed by the spring: "This progress has only been possible because of the continued hard work of our site agent David Pendegrass of Mears, together with City College students and tutors, Mears apprentices and some dedicated volunteers."