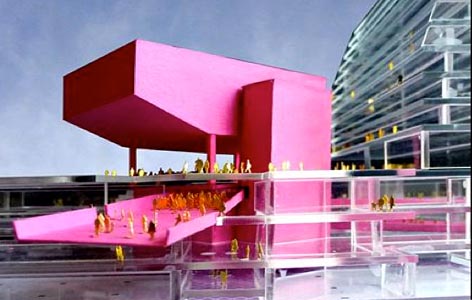 Work by a number of Brighton's architecture and interior architecture students' has been receiving attention since their graduation earlier this summer.
The Royal Institute of British Architects (RIBA) Sussex Branch awarded three Architecture BA(Hons) students prizes to celebrate their talent and reward them in the pursuit of excellence in the study of architecture:
Holly Crosbie was awarded the Part 1 Student Prize for her model of her project, Shoreham Village of Moving Image. Her design for a film school is based on the idea of a fragmented village surrounding the central village square, which forms the theatre.

Hena Akbarwas jointly awarded the Part 2 Student Prize for her exploration of the university and its relationship to the city of Brighton and Hove. She looked at the university as an engine for cultural, social and economic change and highlighted the need for greater transparency and permeability: its structure should allow the wider community to use it more easily.

Gonca Ozerwas jointly awarded the Part 2 Student Prize for The Vessel of Memory, composed of fragmented divisions of memory deep beneath Greenwich's subterranean metropolis and comprised of an inspirational studio, an imagination department, a discovery school and a cultural faculty.

The students were presented with their prizes by Olli Blair, Chair of RIBA Sussex Branch at the recent Up and Beyond Graduate Show.
The work of graduate students from Interior Architecture BA(Hons) has been on show at Europe's largest showcase for art and design talent: Free Range. Students from 28 UK Interiors degree courses exhibited at the showcase, held in London's Old Truman Brewery, Brick Lane, and it is renowned as the best place to spot emerging trends and talents as event provides new creative graduates with the opportunity to showcase their work on an international level.
Five students, including 2 from Brighton, were shortlisted for the most prestigious award of this year's Free Range Show 'Best overall student project in the show', which is open to all 450 exhibiting students. Lizzie Munro won joint first prize and Klara Zagorjanska was one of 3 runners-up. This builds on the success of last year when a Brighton student won the prize for the best drawing.
Three students gave an insight into their experience of studying Interior Architecture BA(Hons) at Brighton:
Ama Adansi-Pipim said: "I would class the Interior Architecture BA(Hons) course as very established with high expectations. The teachers are always there to help, and strong communication links are in place so that if your ever in need of help with projects or have issues with the course there is always someone to talk to or get in contact with so your never feeling at a loss."
"There were so many facilities available to us. I was able to take my model-making skills to another level by combining a variety of different modelling methods ranging from vacuum-forming, laser cutting and casting. We were encouraged to try new mediums, even if they failed it was all about the process and experimentation, that in itself, makes the process all the more exciting."
Kristina Vakarelova described how she was able to "be bold and feel free to experiment. Brighton's a great place for open-minded people, such a vibrant city. It's full of young people, so there's always something going on. The three years of my degree have definitely not been easy, but I've learned so much. I've gained knowledge and experience, learned how to use my initiative and have always been given support when it was needed."Lina Timofejeva said: "Since our course in Brighton is considered to be 'uber' conceptual, we were always encouraged to think more creatively when at the first stages of the design development to make it stand out, think about the spatial experience, light, transformation, details, eliminate the unnecessary and make people feel something when they look at your work"
"Teachers and technicians are experienced and help you out, workshop equipment and printing facilities are good which definitely affect the quality of your work."
Students Max Langran, Catriona Moke, and Violeta Stukaite's work grabbed the attention of a reviewer in the July issue of The Architects Journal.
Max for his "arresting images and dramatic counterpoint of country cottage and sinister surveillance building" in his Winchelcity drawings responding to rapid urbanisation demanded by a changing coastline.
Violeta was praised for her "glorious and sensitive space for rehabilitation" in the repurposing of a utilitarian building and Catriona was described as a 'standout student', producing drawings of "boldness and skill" for her project entitled The Collaborative Town Centre. The reviewer commended the ambition and relevance of her central message: "…that personal interaction and collaboration demand public urban space to unfold" when the increasing private ownership of public spaces "threatens a less palatable future for our cities."