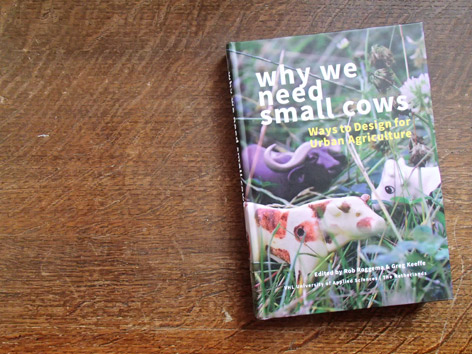 Contributions on urban food production written by architecture lecturers and researchers Katrin Bohn, André Viljoen with former PhD student Mikey Tomkins, are featured in a new publication: Why we need small cows: Ways to Design for Urban Agriculture published this month.
Their contribution to the book is on Continuous Productive Urban Landscapes (CPULs) focusing on community food growing. The book, edited by Rob Roggema (VHL University, Velp, The Netherlands) and Greg Keeffe (Queens University Belfast, Northern Ireland), mainly brings together thoughts and projects from leading Dutch academics and practitioners. However, it also uses selected international concepts to strengthen its argument that the currently perceived "break with large-scale industrialised agriculture' 'requires thinking at a different level". The book aims to illuminate the wide diversity of perspectives on how food can be produced in urban environments.
The three authors' design research can provide answers to the book's questions on a theoretical and applied level. Additionally, Bohn&Viljoen's work has been publicly discussed in The Netherlands before, and their CPUL City concept has directly influenced urban planning in at least one new Dutch development.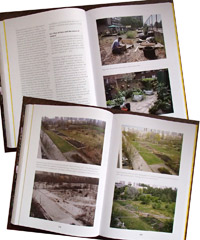 Whilst Bohn et al.'s chapter introduces the CPUL City design concept that André Viljoen and herself developed during the last ten or so years, this time, the question investigated is the contribution of community food growing to concepts of productive landscape design and urban resilience. The chapter extracts this particular form of urban food growing from the wide range of urban agriculture typologies and presents a critical analysis. This was possible due to Mikey Tomkins' PhD research into community-based urban agriculture in London which heads the chapter and sets its tone.
The chapter titled Who makes the city?: Community Food Gardens and CPUL City Actions is developed out of a dialogue between Tomkins' findings and the CPUL City Actions designed by Bohn&Viljoen for integrating food growing into contemporary cities. The aim of the chapter is to open a discussion regarding the way in which everyday food growing might interact with a broader urban agriculture strategy of consolidating agricultural practice at a neighbourhood and city level.