Design projects by University of Brighton Architecture BA(Hons) students are featured in 'The best graduate work of 2014' in the September edition of Blueprint Design Curial.
Oliver Riviere and Lily Carver graduated this year and Andy Matthews and Benjamin Turner, both of whom are recent Brighton alumni, have just graduated from the MA course at the Royal College of Art.
Oliver Riviere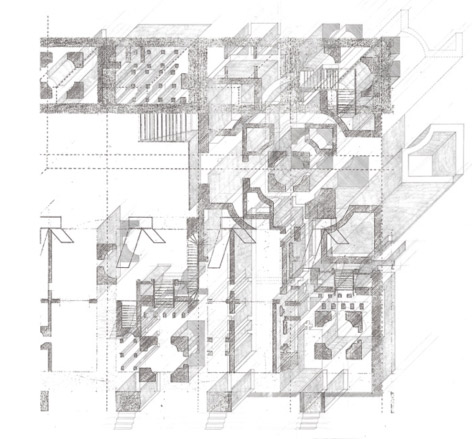 Riviere proposes new buildings to line the north edge of Regent's Park, where Nash's terraces end and green space meets the Regent's Canal and Camden Town. Designer Alex Arestis commented:
"Remarkable drawings present close readings of local built forms and typologies in this rich context. His final scheme collages the results of his investigations within four bays of a new terrace to create a design of considered spatial richness.
"An enticing architectural riff on the Georgian townhouse and its adaptation."
Lily Carver

Carver's project proposes a series of structures around London's Elephant and Castle for the cultivation of ingredients used in the cuisine of Latin America's indigenous peoples.
Alex Arestis describes her work as: "An energetic dialogue between intricate models and captivating drawings, she presents designs for interwoven spaces with varied exposure to light and air that reveal the growth and production of food in a dense urban setting.
"Dynamic and useful buildings celebrate a minority group in the heart of London's Latin American community."
Andy Matthews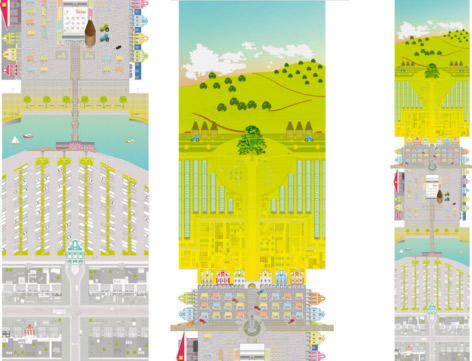 Royal College of Art MA graduate Matthews completed his Architecture BA(Hons) at the University of Brighton in 2010. His MA project proposes a new food-distribution centre located on the outer edge of the Green Belt, between productive farmland and housing. Teetering on the postmodern, large crisp drawings depict Hollywood-esque billboards, cul-desacs, car parks, shopping malls and pig farms.
A book of photographs accompanies the drawings, with views out to either side of the Green Belt as if asking: what is actually here? Architect Katherine Spence describes it as 'posing timely questions, opening up this 'non-place' for critical rather than speculative action.
Benjamin Turner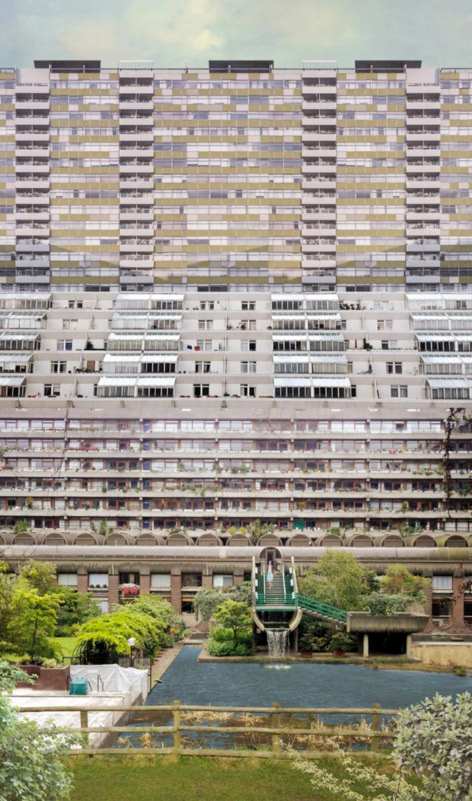 Also graduating with an MA from the Royal College of Art, Turner was a Architecture BA(Hons) graduate in 2009.
Commenting on Turner's latest project, architect Eddie Blake said: "Anyone who holds any affection for Rainham in London would be attracted to Turner's provocation. He appears to have understood the weirdness of Rainham, with some warmth. By collaging London's brutalist heritage and inserting it into the marshes he creates an uncanny and seductive cityscape.
"His masterplan bears some resemblance to Finn Williams' (a unit tutor) thesis work on Barking Reach - a good place to start. His illustrated plates are like the magnificent petulant rejects from Stefi Orazi's plate series as displayed in this year's British Pavilion at the Venice Biennale.
"I like this project - and it's interesting that it resembles an only slightly exaggerated form of what Havering Council's regeneration officers are talking about right now."