Two of this year's Architecture graduates Chris Poulson and Wan Ning Oon have been awarded prestigious RIBA prizes for excellence.
Chris Poulson graduate also won the Diploma Prize from the university for his study of the City of London and a proposal for adapting an office block on the North bank of the Thames into housing and community use.
The judges described his project as "a very complete and considered presentation which illustrated a very comprehensive understanding of the design process through to the final completed design, which retained the strength of the original concept. The presentation illustrated a very articulate and detailed design process."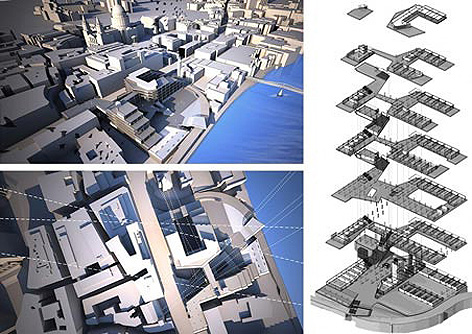 Image: Chris Poulson's design

Chris worked for Brighton based RS Design, before joining the London office of Pringle Brandon Perkins & Will.
Graduate Wan Ning Oon received a prize for excellence and the university's Degree Prize for her project focusing on a wig factory in East London where, as she says, there is "an extensive grooming culture".
She said: "As a wig-making hub, the building caters for both theatrical and clinical needs of the diversified ethnic hair groups."
Image: Wan Ning Oon's design
Judges described the project as "the very detailed and comprehensive development of an idea and thought process. The evolution through study, sketch and thought process was extremely well presented. The depth of the presentation was a delight."
Judges of the RIBA Student Prizes at the Brighton School of Architecture were Mike Lawless of LA Architects, Chair of the South East Region of the RIBA; Tony Foulger of Brighton & Hove City Council, Chair of RIBA Sussex Branch; and Andy Parsons of Yelo Architects in Brighton.