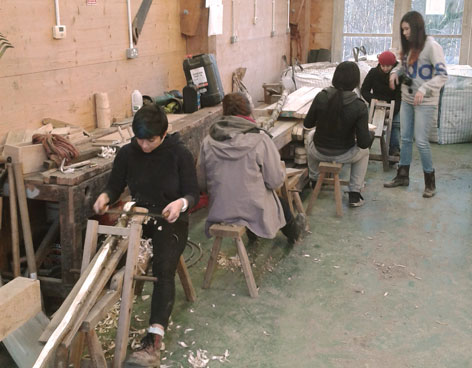 A group of Architecture BA(Hons) students kick-started the New Year with a visit to the Woodland Enterprise Centre at the village of Flimwell in East Sussex to learn about the skills of coppicing, wood processing and making.
The centre is an innovative and award-winning example of what is achievable with sustainable local resources. Forestry expert David Saunders gave the students a tour of the surrounding woodland explaining how the history of the site and human intervention has affected the growth of the plants and the species of trees and vegetation that can be found there.
The afternoon saw the 20 students designing and making a fixing from the local timber, that would be connected to an existing structure – landscape or building – without leaving any permanent trace whilst allowing for a skin to be later added.
The students returned to Brighton to use these ideas within their future design proposals along Brighton seafront.
Student Misbah Mahmood said: "Visiting the Woodland Centre gave us an opportunity to work with local and readily available materials to produce something within a restricted time-frame. Having to think about something that was to be physically made in the time we had, forced us to think intuitively and practically whilst still employing our design skills - something that could definitely be applied to the process of designing we undertake on the architecture course."
Image: Students making a fixing using local timber.