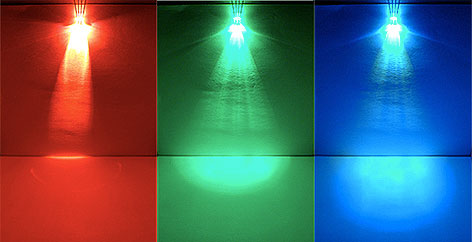 The Faculty of Arts is delighted that Glenn Longden-Thurgood, Subject Leader in BA(Hons) Interior Architecture has been successful in his bid for a University of Brighton Business Investment Fund (BIF) Award. Glenn has secured £5450 to advance his project titled LightSpot – Designing with Sunlight. He will work with Dr Ryan Southall, Senior Research Fellow in the School of Architecture and Design, and Nick Gant will provide mentorship in his capacity as School Business Fellow.

Glenn's work recognises that the design, manipulation and articulation of sunlight and daylight is at the heart of all forms of spatial design. It is fundamental to the quality of the human experience and perception of architectural and interior space.
The LightSpot project aims to develop a practical design tool that will help consultants, architectural practices and students to understand and experiment with lighting and the visual implications of their design propositions. This can be done quickly by animating the conditions of sunlight and daylight in a responsive and inexpensive manner. LightSpot is an alternative to much larger and expensive light simulation installations that attempt to mimic a variety of lighting conditions. In addition LightSpot has the potential to transform architectural/interior design practice and education through its provision of a more accurate, flexible, cheaper and faster system that will encourage trial and error, testing and experimentation using modest mock ups and basic models and without the need for the construction of large, complex and often costly physical models.

In recent years huge advances have been made in Light Emitting Diode (LED) technology. In particular, reductions in cost, size and increased variety of colours have placed them at the forefront of the next-generation lighting systems, and made them a perfect technology to overcome weaknesses in current daylight simulation systems. Of particular interest to this project is the cheap availability of Red-Green-Blue (RGB) LEDs, with separate intensity controls for each of the colours, allowing colour mixing and consequently any overall colour to be reproduced. This opens up possibilities for creating the particular hues that represent the sky at different times of day.
The simulation of accurate shadows is also vital in the simulation of sunlight therefore light from the LEDs must be collimated (made parallel) before illuminating the model. This can be achieved using collimating lenses made specifically for LEDs or custom reflective arrays.
As an early career researcher Longden-Thurgood is currently being supported by the Faculty of Arts research support fund to investigate the theoretical approaches to lighting simulation. This proposal requests funding to acquire the components necessary for testing, with the ultimate aim of delivering a working prototype. As there are a significant number of different types of potential LED, collimating technologies and control gear, physical and simulation testing of a variety of each is required so as to arrive quickly at an optimised solution in terms of cost, simplicity and performance.
The LightSpot project is located within an emerging research field focussing on lighting research within the faculty, and offers a physical counterpoint to other more digital projects like LightLab: http://artsresearch.brighton.ac.uk/research/centre/office-for-spatial-research/projects/lightlab-where-environment-meets-design. As such it enhances the University of Brighton's reputation as being at the forefront of in-depth, varied and holistic lighting research.