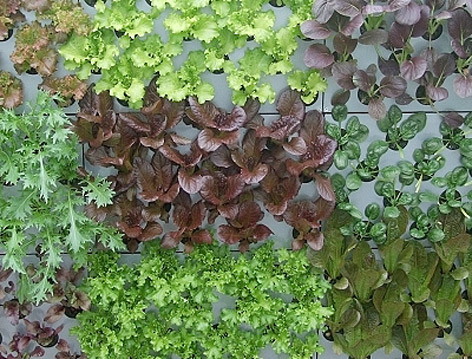 Olympic venues dedicated to the best in sport and fitness could be transformed into hives of urban agriculture after the Games with the help of a University of Brighton expert.
Andre Viljoen, principal lecturer in the Faculty of Arts, has been invited to brief the Olympic Park Legacy Company's (OPLC) real estate team on how to boost the Olympic Games' green legacy and integrate urban agriculture into the post-Games development of the Olympic Park in Stratford.
The briefing follows an earlier meeting in 2010 with Baroness Ford, Chairperson of the OPLC, and Duncan Innes, director of the OPLC´s real estate team. That meeting was arranged by Jenny Jones, the Green Party´s London Mayoral Candidate.
For the meeting, Andre drew on his and Katrin Bohn´s body of research on continuous productive urban landscapes and his recent field trip to the US funded by a University of Brighton Sabbatical Award.
He gave a series of recommendations to the OPLC which included the need for Olympic Park developers to be given urban agriculture design guidelines and that viable food growing spaces become a criteria for evaluating bids to develop the park. Furthermore extensive flat roofs should be designed to accommodate future food growing and properties without gardens should have balconies big enough to incorporate food growing. The Olympic design team has had the foresight to integrate landscape as infrastructure within the main venue, now the opportunity exists to integrate viable urban agriculture into this and within adjacent sites. The April meeting will build on these recommendations.

Andre said: "London 2012 aims to be the greenest Olympic and Paralympic Games to date. Just as important is the ambition to secure a green legacy for future generations in east London. "
Andre and Katrin's innovative work has attracted much interest and they have given advice to several London bodies.
Andre was an invited expert to London Assembly´s Planning and Housing Committee´s 2009 investigation into the role of the planning system in supporting commercial food growing in London. He was also an advisor to Sustain/Greater London Assembly group setting up GLA´s first Urban Agriculture Conference in June 2008. In 2004 he, Katrin Bohn and Professor Jorge Pena Diaz prepared a report for the London Assembly´s Architecture and Urbanism Unit, on continuous productive urban landscapes in London Riverside and the Lower Lea Valley.