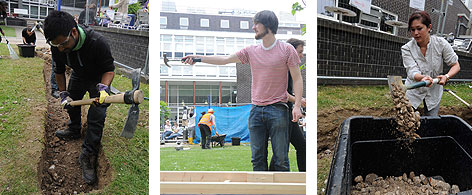 University of Brighton Faculty of Arts students are constructing a pavilion in the Grand Parade campus quadrangle to display graduate work in the Burt Brill and Cardens Graduate Show 2011.

Building the pavilion encompasses experimental elements of green architecture and will provide practical experience for the university's students. Designed and planned by architecture lecturers Glenn Longden-Thurgood, Tony Roberts and Kate Cheyne the pavilion will be made from rammed chalk and earth, stacked timber and straw bale walls supporting a lightweight roof. It will house the final project work of Architecture, and Interior Architecture and Urban Studies graduates from 4 to 9 June 2011, when the Grand Parade campus is transformed into the largest gallery space in the south-east of the UK.

Each wall will be constructed using different sustainable techniques: the rammed chalk and earth wall will be cast in a formwork container using re-cycled ply/timber as shuttering; a stacked timber wall will be fabricated from used shuttering ply; and the final wall, made from stacked straw bales, will be made by knitting each bale to its neighbours with hazel 'stitches'.
Recycled materials are being donated by Sir Robert McAlpine Ltd from their nearby Amex construction site and from a University of Brighton development in Falmer. The project has also received engineering advice from Tom Bedford of BBP Consulting Engineers Ltd.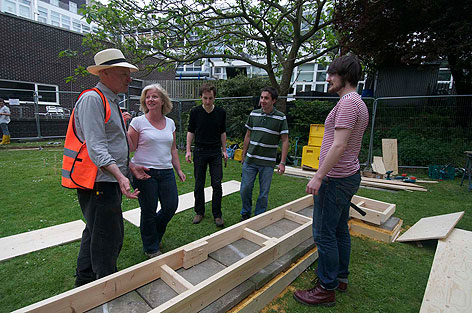 Catherine Harper, Head of the School of Architecture and Design at the Faculty of Arts said: "This is an ambitious and exciting project that will give our students a wonderful opportunity to gain first hand experience of the innovative techniques utilised in the university's House That Kevin Built project. The Mears Group are supporting THTKB project significantly with materials and labour, and their apprentices will be working on site with our students. The pavilion will make an incredible addition to our annual graduate show."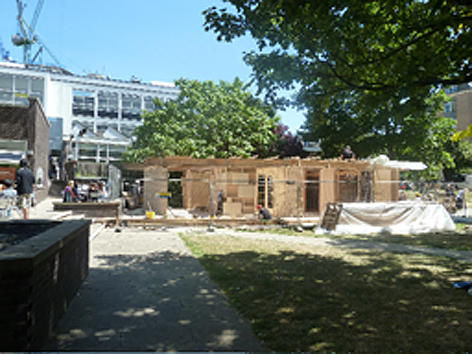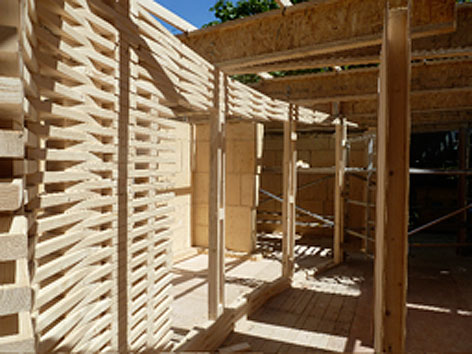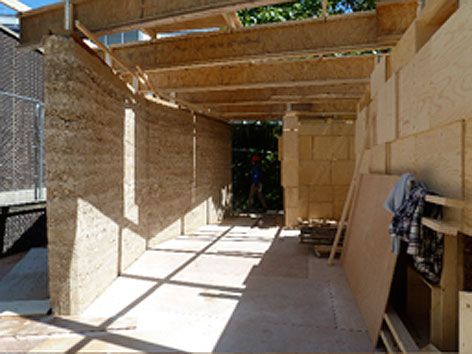 Based on the building that University of Brighton senior lecturer and BBM Sustainable Design director Duncan Baker-Brown created in 2008 with Kevin McCloud from Channel 4's Grand Designs show, The House That Kevin Built rebuild on the Grand Parade campus will see the reconstruction of the UK's first contemporary low-energy prefabricated house built using entirely ecologically friendly materials. Groundworks will begin on 23 May 2011. Read more about The House That Kevin Built Project.

And after the show is over? It is hoped that the chalk and earth wall will become permanent and a stimulus to forthcoming exhibitions, and most of the other materials will be re-cycled. Straw bales will be returned to farms and the "stacked" timber wall will be disassembled into components and travel to London to become the interface for the Interior Architecture show before being re-cycled.