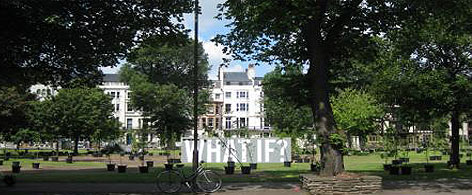 As part of a South East England Development Agency (SEEDA) project to make 'Places from Spaces', Architecture student, Lucy Palmer, designed a week-long 'new look' to change an ordinary, everyday space into an extraordinary place for people to enjoy.
The 'Places from Spaces' project aims to encourage new design thinking for urban public spaces. By using local universities to create temporary schemes, communities can test creative schemes for transforming public spaces to ask 'what if' – what might be possible in reinvigorating such places? The project also gives architectural and engineering students real hands-on experience to build their employability potential, as well as bringing fresh innovative thinking from academia to improve community places.
Highlighting the importance of design to senior council decision makers has been a major achievement of the project, demonstrating the valuable resource available to the community in its university. At the same time, the University of Brighton Faculty of Arts has seen the educational value of working on practical local projects as part of its commitment of meaningful social engagement.

Through the 'Walking Woods Project', for one week in June 2009, the 'forest' of Valley Gardens created new nature trails and environments for visitors. Lucy explains: "My aim is to get the public back into the space and using it differently. I hope people will enjoy seeing the park full of greenery in this very urban environment. I've decided to use six species of tree, with different heights and densities to create an interesting landscape across the site."
After the temporary transformation, the trees will be planted at East Brighton Park, where they will be enjoyed by the local community for years to come. Lucy's fellow architectural students will also display their designs for possible permanent transformations of Valley Gardens and will be asking people for their views and comments on how to improve the area. The project in June 2009 coincided with the University of Brighton, Faculty of Arts, Burt Brill & Cardens Graduate Show.
Project leader, Ian McKay, visiting lecturer at the University of Brighton and partner in BBM Sustainable Design Ltd, says: "This is an experiment to test new ideas to help regenerate neighbourhoods and improve townscapes as well as create a sense of place and build community. We've been very grateful to officers and members of Brighton & Hove City Council who have judged our students' concepts and advised on typical real-world constraints in applying design."
The 'Places from Spaces' project is also taking place in Southampton and Portsmouth and is coordinated by the Solent Centre for Architecture and Design (SCA+D) and the Kent Architecture Centre. Phil Smith, the SCA+D project leader, comments: "We're very much looking forward to seeing the three outcomes which are all very different and each presents possibilities for schemes in the longer term."