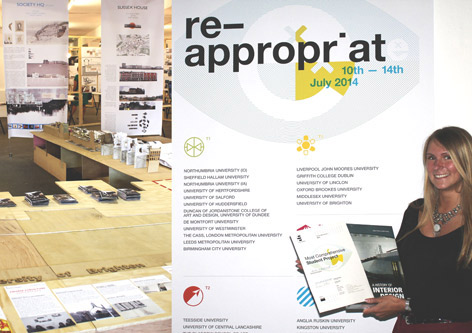 Interior Architecture BA(Hons) graduate, Ana Sidorova, has just won the 'Most Comprehensive Student Project Award' at the Interior Educators show at Free Range 2014.
Ana, who graduated this year, also won the 2013 Design Exquis Competition and had her work exhibited at the Roca Gallery in Chelsea Harbour, London last November.
The annual Interior Educators at Free Range event, which was held in London from 10 to 14 July, 2014, offers the UK's largest showcase and only collective exhibition of the best work produced by the 2014 graduates from leading UK undergraduate courses within Interior Architecture & Design.
Interior Architecture course leader Terry Meade said: "Ana is a very worthy recipient of the prizes she has won. She has proved to be a very ambitious student who worked hard and always approached her work with a professional attitude. She responded well to guidance given in reviews and tutorials and we believe that her ambition, along with her evident creativity will increasingly be realised as her experience and confidence develops. We would like to congratulate her on her awards and wish her much success in her future career."