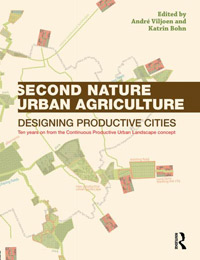 A new book by Architecture BA(Hons) lecturers André Viljoen and Katrin Bohn exploring urban agriculture and sustainable food production has just been published.
Second Nature Urban Agriculture: Designing Productive Cities, which is published by Routledge, is a follow-up to the seminal book Continuous Productive Urban Landscapes (CPULs): Designing urban agriculture for productive cities and explores the urgent need for sustainable food supplies and security in the context of rapid population growth and urbalization. It aims to contribute to this pressing issue by offering a radical but achievable approach that is equitable, sustainable and can create desirable urban environments.
It takes forward ideas about the CPULs concept, advances and updates the theory and deals with strategies for implementation. It draws lessons from selected international projects that are innovative, challenging and underway, all of which have been developed or evaluated by the authors. The book introduces a four-point plan of CPUL City Actions aimed at activists, designers, practitioners and policy makers interested in implementing urban agriculture as part of a wider urban design strategy.
Viljoen and Bohn are considered pioneer thinkers in this area, and bring a unique overview to contemporary developments with the experience to judge opportunities and challenges facing those who wish to create more equitable, resilient, desirable and beautiful cities. Leading international academics and practitioners from the fields of food planning, the arts and urban design have contributed to the book, and the foreword has been written by William Mc Donough, author of the highly influential and acclaimed Cradle to Cradle.