Staff and students from the Interior Architecture BA(Hons) course at the University of Brighton Faculty of Arts have been involved in a WasteZone exhibit at the Ecobuild 2013 exhibition, held at the ExCel centre in London Docklands.
The WasteZone was dedicated to raising awareness about the dangers of waste and the negative impact on our planet, and provided a temporary place to discuss ideas. The participants included lecturers, students, activists, filmmakers and designers of all kinds who also presented examples of products, buildings, furniture, all made from waste products.
Speakers included lecturers Duncan Baker-Brown and dNick Gant and Co-founder of recycling website Freegle, Cat Feltcher. University of Brighton Faculty of Arts students became involved when senior lecturer Gem Barton was asked by BBM Sustainable Architecture to design and build up-cycled seminar seating for the WasteZone.
In view of the nature and purpose of the WasteZone it was of key importance that the benches were made out of recycled materials and after deciding that the seating would take the form of benches rather than individual seating, Gem designed an initial proposal combining a stool and bench.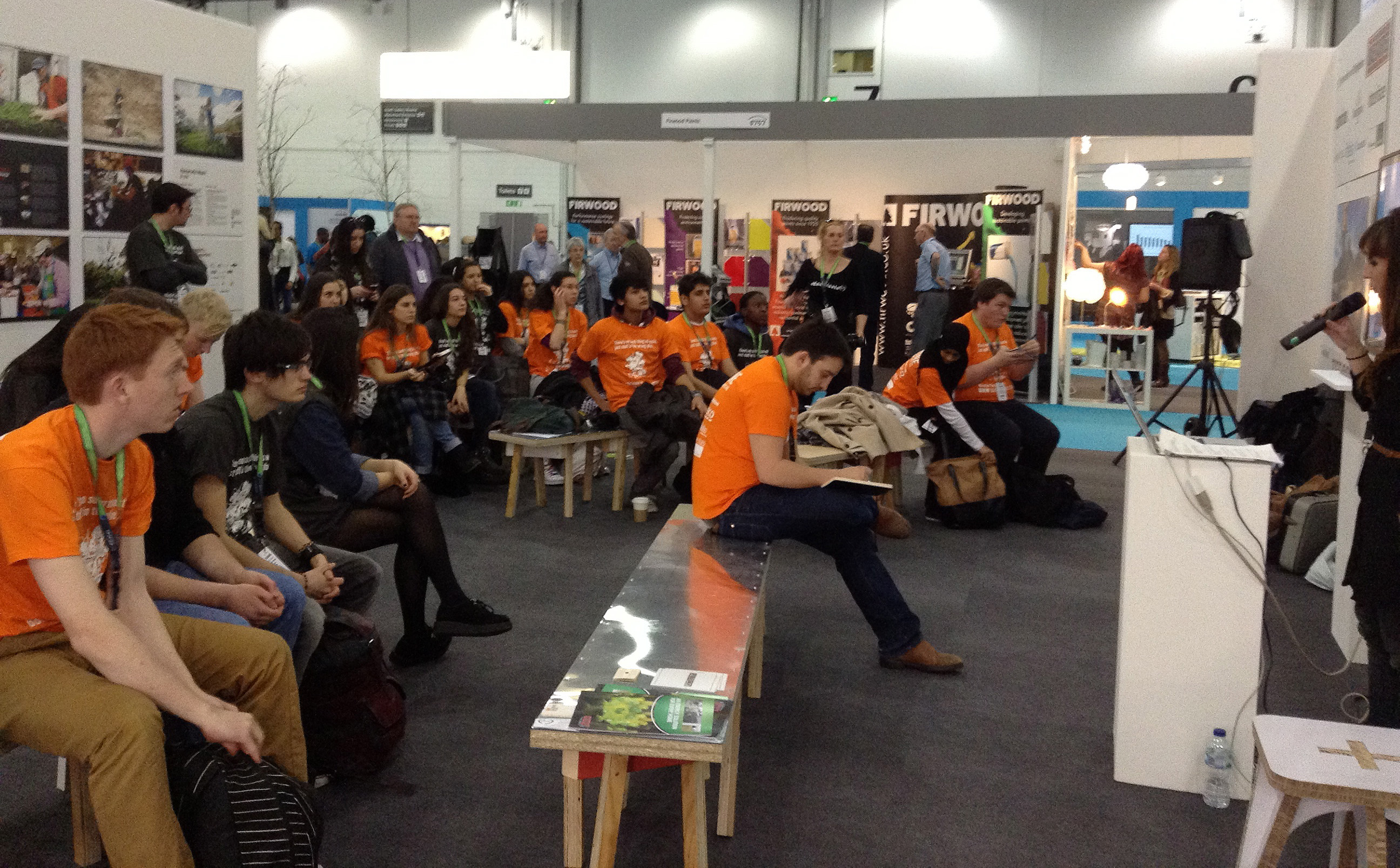 Gem then recruited undergraduates from levels 5&6 Interior Architecture BA(Hons) to assist with the construction. With the principle of 'There is no such thing as waste, just stuff in the wrong place' in mind, everything was sourced via the re-cycling website Freegle. Gem said: "It was a bit of a lucky dip with materials, so although we had the basic design for the seating, it developed and altered as the materials arrived.
"After cutting over 500 pieces of wood, assembling 120 legs, 40 triangle frames, and eight custom-made bench tops, drilling over 1,000 screws and with a little help from our friends at McVities and Foxes Biscuits, we completed the benches just in time for their transportation to ExCel in London."
The experience of being involved in the project is reflected by the comments of the students': Natasha O'Bryne said: "Being involved with such an esteemed group of designers was incredibly rewarding and has inspired a more significant emphasis on sustainable design in my attitude towards design."
Emily Borrett said: "This work experience gave me taster of what it is like in the real world, working with set deadlines that have to be met."
And Jen McPherson added: "I feel the experience showed the importance of timing and teamwork. I think the most crucial aspect of work within the field, is evident that in projects, is that not every individual will put expected effort."
Those involved in the project were: Gem Barton, Jen McPherson, Karin Anderson, Abi Taylor, Karianne Opheim, Jim Wilson, Aidrian Krumins, Duncan Baker Brown and Cat Fletcher.
First image: Duncan Baker Brown and Nick Gant at the WasteZone.
Second image: Participants using the seating made by students.