University of Brighton Faculty of Arts Architecture alumnus Joseph Frame won the 'Future Life Work' category in the Homes and Communities Academy (HCA)'s Future Visions Competition for 2009.
Future Vision is an awards scheme that finds ideas for making better places to live, work and play. As well as a
nationally recognised award
to impress potential employers, winners claim one of five fantastic
four-week work placements.
Joseph Frame's' Objet D'art Vu' is an enterprising idea that promotes economic growth, eco-friendliness and social inclusion. A series of transferable display boxes help to bring alive public spaces within housing estates and create space for residents to showcase art and exchange their unwanted household items.
The invention is designed to tackle two key issues prevalent in many modern housing estates - under utilised public space and a lack of community spirit.
The art gallery provides a focal point for the community, while the 'Swap Shop' inspired recycling points help to highlight the environmental and economic benefits of 'reusing' rather than of 'discarding' and promote the concept of 'free cycling'. Participating in free community recycling encourages residents to interact regularly.
Joseph studied Architecture at the University of Brighton until 2007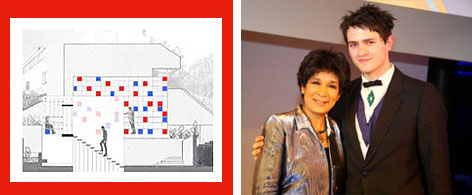 Image: left, 'Objet D'art Vu': right, Joseph Frame with Moira Stewart at Future Visions Award Ceremony