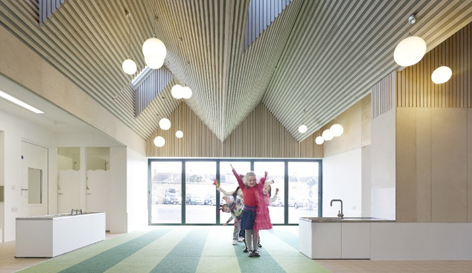 Image: School design by Nick Hayhurst. Courtesy of Kilian O'Sullivan
Nick Hayhurst, who leads Masters in Architecture at the University of Brighton Faculty of Arts, is one of five finalists in the Young Architect of the Year Award (YAYA) 2012 competition run by the architecture magazine, Building Design (BD).
Hayhurst's Pegasus Academy project provided seven new classrooms, a hall extension and administration hub to the south London school.
The YAYA judges were presented with a number of submissions from practices that included school designs and felt that, of all of them, Hayhurst & Co was producing by far the most inventive work.
In the eight years since Nick Hayhurst established the practice, it has realised 34 schemes, a substantial number of which are in the education sector. Its largest completed project is at Hayes Primary School in Croydo, a £2.7 million extension to a tired and outdated school building. A new 54 metre long facade in mirror-polished stainless steel flickers with the reflection of the adjacent trees, providing a renewed energy to the building.
Also in Croydon, it is working on the £3.6 million remodelling and expansion of Whitehorse Manor Infant and Junior Schools to form the new Pegasus Academy. The design brings together a fragmented site with interventions that include seven new and six remodelled classrooms, a hall extension and new administrative hub.
The concept of a "responsive roofscape" provides a controlled sense of scale to the new development. A series of room-scaled extensions assimilate the pitches and proportions of the Victorian school but play with the scale, repetition and constructional authenticity of the forms.
Commenting on the shortlist on its website BD said: "In one of the most challenging periods to be a young architect, this year's Young Architect shortlist demonstrates that it is still possible to make great work if you are energetic in seeking out opportunities."
Now in its 15th year, YAYA is the UK's premier award for emerging British architects. Following interviews, the YAYA winner will be announced at BD's Architect of the Year Awards ceremony being held at the Brewery in London on 4 December 2012. Full YAYA coverage is available at: bdonline.co.uk/yaya-microsite