MA 2016 show includes a range of diverse work by students graduating from the MA courses in Photography, Sequential Design/Illustration, Arts and Design by Independent Project and Performance and Visual Practices.
MA Sequential Design/Illustration and Arts and Design by Independent Project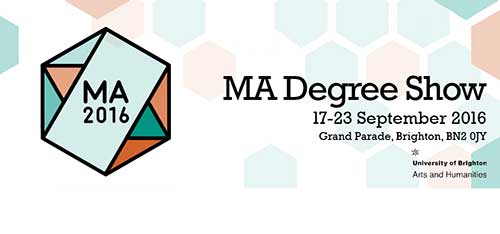 These internationally recognised postgraduate courses support a wide range of disciplines, which this year include illustration, textiles, graphic design, film, writing, printmaking, screen-based design, collections, music, typography, costume design, performance, animation and metalwork.
Among the self-initiated individual projects in the exhibition are a series of graphic diagrams analysing and comparing story structure in film; four layered narratives based around a lonely pup and his deceased master (who is a sausage), and a personal archive of discarded objects found on the streets of Brighton, which includes a collection of 200 found dog ball fragments.
Gallery hours: Saturday to Friday 10:00am to 5:00pm, closed on Sunday
Private View – Friday 16 September 2016, 5:30pm–9:00pm
Exhibitors: Ollie Arthur-Banes, Katie Beecroft, Mariana Braimi, Jo Coles, Jenni Cresswell, Izzy Hodge, Ridder Levitt, Mark Lewis, Tian Liu, So Young Park, Thai My Phuong, Jun Qiu, Juliette Rajak, Avanish Sathianathan, Jill Vigus.
Counter-Memory - MA Photography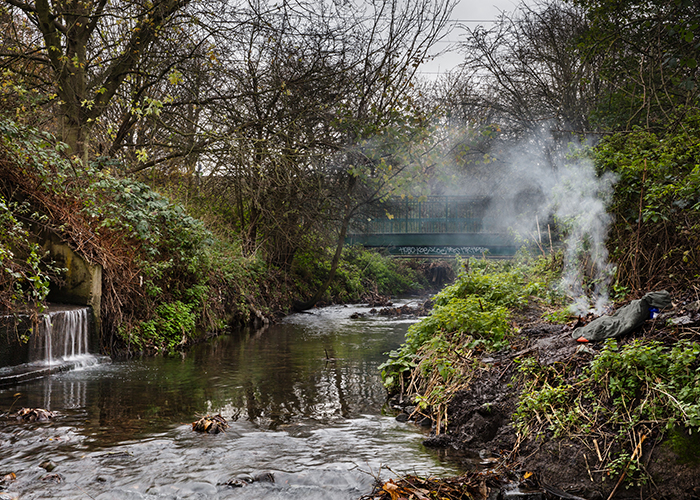 Image: Hogsmill Valley, 26th November, 1977 by Richard Burniston
Hosted at the University of Brighton Gallery on Grand Parade, the annual exhibition will showcase 13 international visual artists from many different countries including China, Latvia, Hungary, Cyprus, Spain and the UK. Work on show examines a wide range of concerns, styles and formats. Specific practices explore and challenge areas of interest such as notions of contemporary masculinity, the European refugee crisis, the trauma of the 2011 Japanese tsunami and the elusive, eerie otherness of the primal elements of everyday life.
Presented under the title "Counter-Memory", a concept first coined by Michel Foucault, the work of 2016's graduating MA Photography class explores uncertain and ambiguous spaces of representation, giving voice to more marginal narratives that have been suppressed or simply lost from view. Counter-Memory is an opportunity to engage with work at the forefront of contemporary photographic practise.
Private View: Friday 16 September 5.30pm – 9.00pm
Exhibition continues: 17–23 September 2016
Gallery Hours: 10.00am-5.00pm, closed on Sunday
'Inclusions' - MA Performance and Visual Practices