The University of Brighton Faculty of Arts invites you to the MA Degree Shows 2013

MA Fine Art
Venue: University of Brighton Gallery, Grand Parade.
29 June - 8 July
Opening times: 10-5pm Mon-Sat and 10-4pm on Sun.
Private View: Friday, 28 June, 5.30 - 9PM

MA Digital Media Arts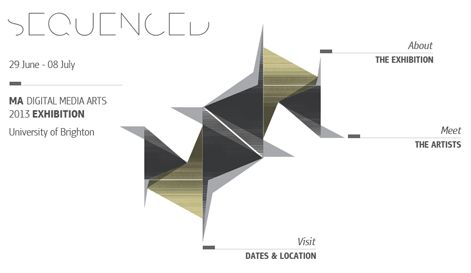 Venue: Second floor, Grand Parade
Opening times: 29 June - 8 July.
Mon-Fri 10-5pm
Sun 10-4pm
Private view: Friday, 28 June, 5.30 - 9PM

MA Inclusive Arts Practice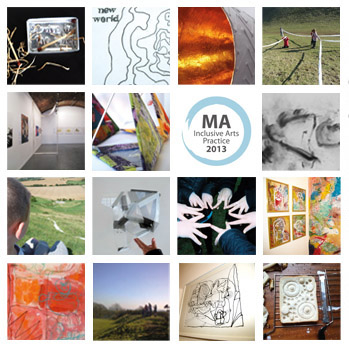 Students from the MA Inclusive Arts Practice 2013 showcase nine arts-based action research projects via an arts exhibition and symposium. The artists and researchers explore themes such as representation, collaboration, gender and access, seeking to challenge views about art in a social context. United in these aims, the work is diverse and includes intervention, performance, film, installation and sound. View the artists' work.

This year also welcomes the inaugural MA Inclusive Arts Practice symposium where students present their research, screen films and engage audiences in debate.


Venue: Cafeteria Foyer, ground floor and Room 206, second floor, Grand Parade

Opening times: 29 June - 8 July.
Mon-Fri 10-5pm
. Sun 10-4pm

Private View: Friday 28 June 1.30-3.00pm & 5.30 - 9PM
A Symposium will be held in Room G4 on 4 July 1.30-3.30pm.

Entry is free to all shows.