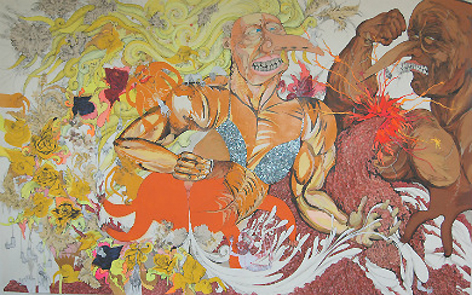 University of Brighton Faculty of Arts Fine Art Printmaking BA(Hons) graduate Isabel Rock has won first prize and a prestigious £10,000 Fellowship in the Printmaking category of The Arts Foundation prize for 2013. She is one of only six winners selected for an award this year.
Rock, who also gained an MA in Printmaking at the RCA, divides her work between high-end fine art drawings and self-published 'zines' which she makes accessible to a wider audience. She cites Hogarth as a major influence in her work although she adds: "Where his is about morality and social injustice I am more interested in the unconscious and the metaphysical aspects of humanity."
The figures in Rock's work inhabit a subconscious dreamland blurring the lines between reality and imagination and are produced using a mixture of drawing and print, mainly woodcut.
Fine Art Printmaking BA(Hons) lecturer, Duncan Bullen said: "Isabel had a fantastic third year at Brighton, where she produced a set of large scale woodcuts, which were as formally ambitious as they were humorous.. Having kept an eye on her career, I am delighted, but not surprised to hear of this significant award."
The Arts Foundation, which is in its 20th year, supports emerging talent in the Arts. Whether exploring new avenues or consolidating existing work the fellowships have proved crucial in the success of many award winners.
The awards were presented by Antony Gormley, a trustee of the Arts Foundation who also taught at the University of Brighton Faculty of Arts, handed over cheques totalling nearly £80,000 to winners and runners-up.
Image: Faint Heart, Isobel Rock