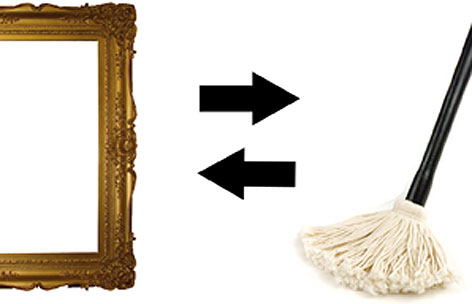 An exhibition between Fine Art Painting students from the University of Brighton at BLANK.
Exhibition details:
Dates: 28 – 31 May 2010
Opening times: 11 – 5 pm, Private View 28 May 6.30 – 8.30pm
Venue: BLANK Studios and Gallery, 108 North Street, Portslade BN41 1DG
An exchange is the debut exhibition of painting students at a unique gallery and studio complex, that emphasises the importance of supporting the development of emerging artists. BLANK offered these students the use of their exhibition space in exchange for their help during an event for the Brighton Fringe festival.
"Last year's first year exhibition at the Old Music Library was a hard act to follow and the artists who showed in 2009 have already gone on to exhibit widely, several winning scholarships to Canada, Japan and Korea. However, I am delighted to say that this new group of painters are just as talented as their predecessors. Who knows what they'll be doing by the time they graduate? If you want to see the debut show of the next generation of art-stars then don't miss this exhibition. Get there before Saatchi does!"
Christopher Stevens
Painter and Senior Lecturer University of Brighton

The gallery's ideology of sharing and working in the community fits well with the nature of the artists, who have put together the show with limited time and funds. These young artists have risen to the challenge and produced a strong and ambitious show.
The exhibition will showcase work by 27 artists ranging in age from 19 to 30 and from many different backgrounds. This has resulted in a vibrant mix of influences and inspirations, from film stills to maps and childhood memories, which push the boundaries of painting ensuring it remains a vital contemporary art practice. This eclectic mix of contemporary styles embodies the vitality of this new and exciting generation of artists. It promises to be an electric show.
"Vive la peinture!" wrote Matisse to Bonnard in 1925. Close to a century later, painting remains very much alive and well, as can be seen in the current, extremely lively and diverse show from painters from the First Year of the BA (Hons) Degree course at the University of Brighton. Over the past few years, the Painting course at Brighton has been on something of a roll, with more and more students proceeding to high quality postgraduate courses, such as at the Royal College or the Slade, or developing their practice through an impressive range of well-received exhibitions. A terrific group of lively, intelligent and committed students, the present first year look set to continue the trend!"
Dr Michael Tucker
Professor of Poetics
Press contact: Emily Cuddeford, emily.cuddeford@hotmail.co.uk, 07825538152