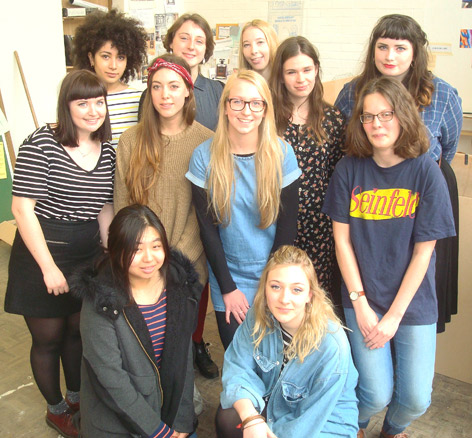 An enterprising student from Fine Art: Critical Practice BA(Hons) is curating an exhibition by students from the University of Brighton Faculty on the roads of Brighton and Hove by making art for the Brighton and Hove bus network.
The Fine Art: Critical Practice BA at Brighton encourages students to make art in and for the world beyond the gallery. Especially fascinated by this way of working, graduating student Megan Dawkins wanted to push the limits of this practice by introducing the idea of a 'site in motion'.
She approached Brighton and Hove Bus Company with an idea for a group show involving her peers. The Bus Company loved the idea and are supporting and funding Art Fare, which includes artworks ranging from performance pieces to publications – on selected bus routes and running as part of the Brighton Fringe. The exhibition will run for two weeks and will inform part of the student's final Graduate Show at Grand Parade (7-15 June 2014)
Dawkins says: "It really appeals to us not showing our work in a plain white gallery space, but instead somewhere that lots of people can engage with it." Her classmate Lily Ashdown Harris adds: "It feels like an authentic way of being an artist."
Work being shown by the exhibitors includes: Journey to Haven by Phoebe Shakespeare - an angel performance which will feature on the Brighton to Newhaven route; a poster series showing quotes from passengers on the concept of art on buses by Sophie Lindsey; a newspaper distributed on route number 1 which features beautiful images based on bus lights and inspired by the recent Light Show at the Hayward Gallery by Catrin Andrews; and images of circus performers responding directly to the bus interiors by Lauren Heckler.
The exhibition will launch with an event organised by the students and the Brighton and Hove Bus Company at the Amex stadium on 1 May. Heckler explains: "There will be a bus taking people from the University of Brighton's Grand Parade building to the Amex stadium – it's really exciting."
Follow Art Fare through #artfare and visit
www.artfare.co.uk
for more information about the project.
Image: The Fine Art Critical Practice students with Megan Dawkins pictured centre.