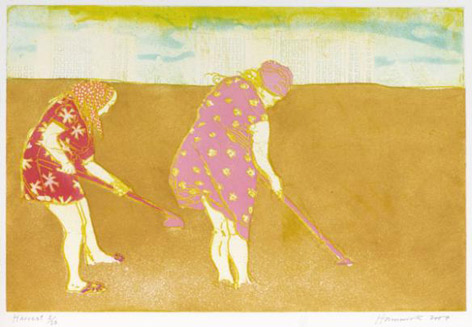 Artist and lecturer, Tom Hammick has been shortlisted for the Jerwood Drawing Prize 2012.
Hammick's work is underpinned by drawing, and since studying MA Printmaking at Camberwell from 2000-2002, has worked as an artist making paintings and prints whilst teaching on the BA(Hons) Fine Art Printmaking course at the University of Brighton Faculty of Arts.
This is Hammick's third time on the Jerwood Prize shortlist, having won third prize in 2004. He has had over 40 solo shows internationally to date and his work is represented in several major museum collections such as the British Museum and The Yale Centre for British Art.
A group exhibition featuring Hammick's work, entitled Dreams of Here, was held at the Brighton Museum and Art Gallery earlier this year and his work was also shortlisted for this year's Daiwa art prize.
The Jerwood Prize shortlist of 73 artists, selected from almost 3,000 entries, is brought together in an exhibition at Jerwood Space, London from 12 September - 28 October 2012. The exhibition will then tour venues across the UK including the new Jerwood Gallery, Hastings and mac, Birmingham.
The Jerwood Drawing Prize 2012 is the largest and longest running annual open exhibition for drawing in the UK and offers a top award of £8,000. It aims to explore and celebrate the diversity, excellence and range of current drawing practice in the UK. The finalists will be selected by an independent panel of judges including Stephen Coppel, at the British Museum, Kate Macfarlane, Co-Director of The Drawing Room, London and Lisa Milroy of the Slade School of Fine Art.
Prizes will be awarded to the winning artists at a ceremony on 11 September 2012.