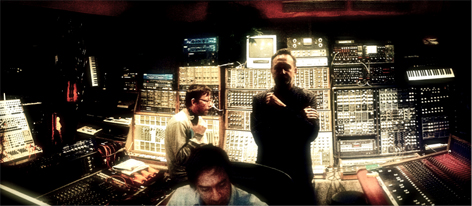 1980s electronic music pioneer, and founder member of Cabaret Voltaire, Dr Stephen Mallinder, has just released a debut mini-album LA Spark in his latest creative guise as Wrangler with fellow musicians Ben Edwards and Phil Winter .
Between recording and performing, Mallinder, who is based in Brighton, teaches as a guest lecturer for Journalism and Critical Fine Art Practice BA(Hons) at the University of Brighton Faculty of Arts.
Catch his recent interview with Liz Kershaw on BBC6 Music where he chats about the 80s music scene and the various creative projects he's been involved in.
Wrangler have live gigs lined-up in the UK and Europe this year, with more dates to follow:
Brussels Aug 11
Birmingham, Hare & Hounds Aug 23
Switzerland, Analogue Fest Sep 13
Glasgow, PULSE Oct 3
Sheffield, Sensoria Oct 4
London, Red Gallery Oct 11 (date to be confirmed)
Poland, Wroclaw Industrial Fest 6 Nov
Cabaret Voltaire were a hugely influential industrial, dance, techno, house and experimental electronic music from the mid-70's through to the mid-90s.
Image: Stephen Mallinder (centre) with Cabaret Voltaire. Photo: Anton Corbijn
The new album, LA Spark is described as "reclaiming analogue technology to produce sounds - to make a new theme for the modern world." It has received rave reviews from the music press:
'It's creepy and brilliant, music you can dance to while looking over your shoulder. Like every era of electronic music all balled up together - CCTV and subways, excitement and fear. The best kind of music.' Q MAGAZINE
''Lava Land' is simply amazing, 'Space Ace' has a deliciously elastic electro-funk swagger; Edwards and Winter's magic peaks on 'Modern World's synth guitar solo! Like Factory Floor and metamono, Wrangler make vibrant, organic electronic music that represents the genre's history while turning a fresh page. A must have.' RECORD COLLECTOR
Mallinder's back catalogue: Collected Works 1983-1985 will be released as a box set in November this year.
Twitter: @StephenMal
Top image: left to right: Phil Winter, Ben Edwards and Stephen Mallinder.