A major exhibition curated by artist and lecturer Tom Hammick entitled Towards Night
delves into the many interpretations and representations of the theme of night throughout art history.
Curated at Eastbourne's Towner Gallery, the exhibition draws together paintings and prints that invite the visitor to experience a journey into a world of wonderment, insomnia and revelry. It features works by J.M.W. Turner, Caspar David Friedrich and Edvard Munch alongside contemporary artists including Peter Doig, Stephen Chambers and Phoebe Unwin and Tom Hammick himself. Also featured is Rome Aquaduct (2011) by artist and fellow Brighton lecturer and researcher, Emma Stibbon.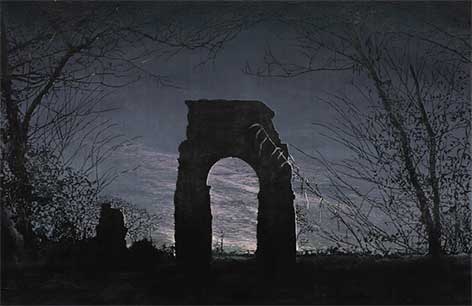 Roman Aquaduct, Emma Stibbon, 2011.
Hammick describes his inspiration for the exhibition: "In my own work I often use night as a motif, as a way of pulling out what seems important from the shadow of darkness. I regularly paint through the small hours until dawn, time that feels especially personal. I have a deep attachment to the velvet dark, to the stars above my studio and to the blue black outline of trees against an infinitesimally less dark sky, as the rotation of Earth passes one notch closer towards the edge of glow from the sun on the other side of the world. This blanket dark re-calibrates what seems essentially important and different in this upside down world, in this parallel universe. The rules are opposite, cut loose from the everyday, from repetition, responsibility, the flatness of daily routine and the flatness of an even light. Here instead, mystery, detached passion, yearning, the poetry of love and loss, sadness, fear and anxiety, emphasised as heightened colour amongst indigo much in the same way an opera spotlight picks out only what is vital. This night-language of the senses is shared in this exhibition by all these artists gathered together here. As Virginia Woolf
put it in Street Haunting, 'The evening hour too gives us the irresponsibility which darkness and lamplight bestow. We are no longer quite ourselves.'"
Already a widely exhibited artist, Hammick's work recently appeared at the International Print Biennale in Newcastle where Jill Saunders, senior curator of prints and drawings at the V&A awarded him the V&A Prize for his work 'Waiting for Time', 2015, which is included in the exhibition. Hammick describes the award as "A huge and completely unexpected honour."
Towards Night has received national media coverage including by the BBC, The Guardian, The Times and Country Life magazine, and the Minneapolis Museum of Art has just bought a piece featured in the exhibition.
Commenting on Hammick's curation, Towner executive director Emma Morris said: "Tom's commitment to the show has been incredible and assisted by the artist Georgia Keeling, they have curated a beautiful exhibition and secured over 80 significant loans. From the germ of an idea Tom has curated a very special exhibition, which I am sure will delight all our audiences and attract visitors from far afield."
Hammick added: "This exhibition has grown way beyond its original conception, to become a magnificent survey of painting and printmaking from over two hundred years based around the central tenet of night. The exhibition is a kind of painterly response to the way figurative artists use their artistic heroes as starting points for their own work, both compositionally and emotionally."
rtists featured in Towards Night: Craigie Aitchison, Hurvin Anderson, Christine Baumgarter, Basil Beattie, William Blake, Nick Bodimeade, Louise Bourgeois, Matthew Burrows, Simon Burton, Nick Carrick, Patrick Caulfield, Marc Chagall, Stephen Chambers, Prunella Clough, Eileen Cooper, John Constable, Michael Craig-Martin, Andrew Cranston, William Crozier, Betsy Dadd, Peter Doig, James Fisher, Caspar David Friedrich, Ewan Gibbs, Will Gill, Tom Hammick, Gertrude Hermes, Utagawa Hiroshige, Howard Hodgkin, Susie Hamilton, Andrej Jackowski, Merlin James, Alex Katz, Georgia Keeling, Ken Kiff, Sara Lee, L S Lowry, Danny Markey, Edvard Munch, Mary Newcomb, Mariele Neudecker, Sidney Nolan, Emil Nolde, Humphrey Ocean, Julian Opie, Roy Oxlade, Samuel Palmer, Sarah Raphael, William Scott, George Shaw, Emma Stibbon, Edward Stott, J.M.W. Turner, Phoebe Unwin, Amanda Vesey, Alfred Wallis, Alice Walter, David Willets, Mark Wright, Rose Wylie.
Top image: Waiting for Time by Tom Hammick, 2015.