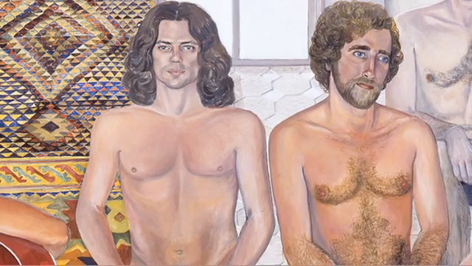 The work of painter Sylvia Sleigh, who studied at Brighton Art School in the 1950s, is the subject of a major retrospective exhibition at Tate Liverpool.
Sleigh who died in 2010, was a realist painter who became an important part of New York's feminist art scene in the 1960s and beyond. She was particularly well known for her explicit paintings of male nudes, which challenged the art historical tradition of male artists painting female subjects as objects of desire. The exhibition at Tate Liverpool will be Sleigh's first UK retrospective, and the largest exhibition of her work to date.
Despite having a solo exhibition at Kensington Art Gallery in 1953, she received little public recognition until her move to New York in the 1960s. There Sleigh and her husband, the art critic and Guggenheim curator Lawrence Alloway, together created a home that welcomed artists, writers and musicians, many of whom Sleigh painted.
Sleigh's practice produced a body of work that highlights the beauty to be found in every person painted, regardless of their gender and supposed imperfections. Her female gaze still has a powerful impact on viewers and the formal qualities of her painting seem poignantly contemporary.
Image: Detail from At The Turkish Bath, 1976 Oil on Canvas 76" x 100", Collection of The David and Alfred Smart Museum of Art, University of Chicago.