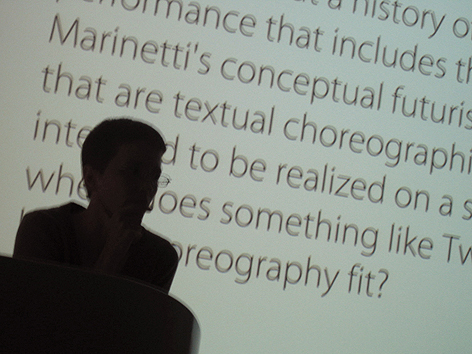 Although artists have created dance on camera since the beginning of cinema, the recognition of Screedance as a distinct artform is relatively recent.
Screendance combines choreographic and cinematographic practices with new media. As a movement-based art form, screendance purposefully combines movement on screen with camera movement and movement created in the editing process.

The first significant intiatives took place in 1980s and 1990s with curatorial events such as the Filmdance Festival at the Public Theatre in New York City in 1983, and the first conference on screendance at the University of Wisconsin, Madison in 1999. Since then there has been a rapid expansion of international interest in the field, with conferences, symposia and dedicated festivals all articulating the need for a more coherent interdisciplinary discourse on the artform.
University of Brighton is particularly well-reputed in this field and has among the staff the world-leading Professor Liz Aggis as well as artist and researcher Claudia Kappenberg, leader of the former Screendance Network, now Centre for Screendance at the University of Brighton.

The Screendance Network was the first international association consisting of US and UK based researchers, scholars and practitioners. The group was formed in 2009 to develop a deeper understanding of the complexity and potential of this emergent hybrid practice. On the 31st December 2011, the Network became the new Centre for Screendance, and will in the first instance continue the Network's aims by overseeing the publication of The International Journal of Screendance.
Through the journal the Centre for Screendance examines the interrelationships of composition, choreographic language and meanings of body, movement, space and time. This is done in the context of contemporary cultural debates surrounding mobility, spatial politics and artistic agency as well as overarching pertinent themes that include sustainability, social and community engagement.
A public Screendance Symposium took place at the Sallis Benney Theatre of the University of Brighton on the 4th February 2011.
The International Journal of Screendance
The journal was launched in summer 2010 and is published online as well as available in hard copy. It is published by Parallel Press at the University of Wisconsin, Madison, US.
Titled 'Screendance has not yet been invented', volume one came out in June 2010, edited by Douglas Rosenberg, University of Wisconsin-Madison, and University of Brighton researcher Claudia Kappenberg. Volume 2 is entitled 'Scaffolding the Medium', published in Spring 2012.
The first-ever scholarly journal wholly dedicated to this growing area of worldwide inter-disciplinary practice, The International Journal of Screendance engages in rigorous critique grounded in both pre-existing and yet to be articulated methodologies from the fields of dance, performance, visual art, cinema and media arts, drawing on their practices, technologies, theories and philosophies. The Journal provides a new frame through which Screendance is examined in the context of contemporary cultural debates about interdisciplinarity, artistic agency, practice as theory and curatorial practices.
For further information on the AHRC Network for Discourse and Publication in Screendance and the Centre for Screendance see:
http://arts.brighton.ac.uk/screendance