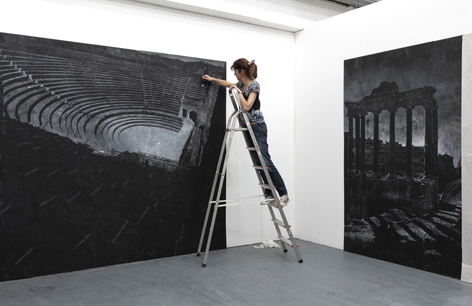 Artist, researcher and lecturer in the University of Brighton Faculty of Arts, Emma Stibbon has been elected to the Royal Academy of Arts.
Emma Stibbon, who teaches on the Printmaking degree in Fine Art, is an award-winning artist with an international reputation and has held several residencies, including the Derek Hill Scholarship at the British School in Rome (2010). Emma's current research project Drawing the Polar Regions has recently taken her on a 5 week Artist Placement in Antarctica organised by the Friends of the Scott Polar Research Institute. She will soon be embarking on the Northern part of her fieldwork by joining an arts and science expedition to the Svalbard Archipelago with the Arctic Circle.org.
Drawing is at the heart of Stibbon's practice and she has travelled widely, recording her responses to the physical appearance and psychological impact of natural and built environments. Working from sketches and photographic records, she creates stark, monochrome, often large-scale works on paper. Romantic in character, they dramatise the effects of human intervention and natural phenomena on monumental structures and explore the fragility of existence.
She has works in public and private collections, including the Victoria and Albert Museum, Scott Polar Research Institute, the University of Cambridge and the Stadtmuseum, Berlin.
The Royal Academy of Arts has a unique position in being an independent, privately funded institution led by eminent artists and architects whose purpose is to be a clear, strong voice for art and artists. Its public programme promotes the creation, enjoyment and appreciation of the visual arts through exhibitions, education and debate.