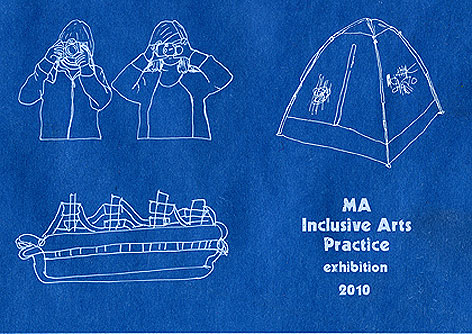 Inclusion /ɪnˈkluː.ʒən/ a sense of belonging: feeling respected, valued for who you are; feeling a level of supportive energy and commitment from others so than you can do your best work.*
Art /ɑːt/ The production or arrangement of sounds, colours, forms, movements, or other elements in a manner that affects the sense of beauty and meaning.
The first MA Inclusive Arts Practice final show features collaborative photography, installation and sculpture made by students in response to their individual practice-based research projects.
'Project Popular Camera' features collaborative medium format photography by Claire Griffiths and Rocket Artist Tina Jenner around the idea of 'personal alphabets.' Sue Winter's installation 'Out Of The Box' represents the research she undertook with students from Downs View Link College. 'Words Are Not Enough' explored how a programme of art activities might build the young people's resilience and support their communication. Abigail Horn is exhibiting cyanotype prints and sculptures in response to 'The Postal Project', a visual dialogue in which pupils from Hillside School and Rocket Artists Shirley Hart and Peter Cutts participated.
The Sallis Benney Theatre Foyer, Faculty of Arts.
58-67 Grand Parade, Brighton, BN2 0JY.
Saturday 26th June-Sunday 4th July.
10am-5pm (Sundays 10am-2pm).
Private view Friday 25th June 5.30-8.30pm.
The MA Inclusive Arts Practice course aims to equip students with the necessary skills to initiate and manage truly inclusive arts projects with diverse and marginalised groups. We hope to engender the enthusiasm, skills and knowledge for appreciating human difference and a desire to use the arts for positive social change, self-expression and wellbeing.
The course is currently recruiting students for entry in September 2010 for more information please see the attached PDF or contact Liz Adams on 01273 643097, E.Adams@brighton.ac.uk
*Miller, Frederick A. and Katz, Judith H. 2002. The Inclusion Breakthrough: Unleashing the Real Power of Diversity. San Francisco: Berrett, Koehler Publishers.