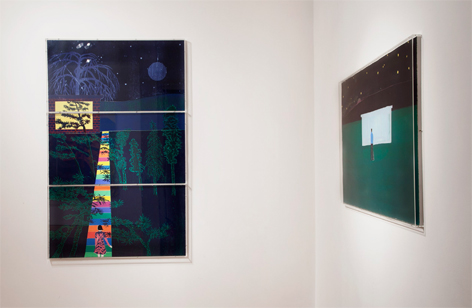 Tom Hammick, artist and University of Brighton Faculty of Arts Fine Art Printmaking BA(Hons) lecturer, currently has a solo exhibition entitled Night Sky at the London's Flowers Cork Street Space.
Hammick who shares his printmaking expertise with young people through a project run in conjunction with local schools in Sussex regularly exhibits his work in the UK and overseas.
His latest paintings are inspired by drawings and photographs made at his home on the edge of the Weald in East Sussex. He describes them as "...using landscape as metaphor: for the human condition, states of mind, and a sense of love and loss for our natural world. The current exhibition expands upon recent explorations of depicting what has been, until recently, essentially an English landscape through the aesthetics of Japonism.
"The images explore senses of time and slowed down pace by stretching a visual narrative across the picture surface and echoes the same lone figures across several compositions in the gallery. This attempt at literally creating a journey through several panoramas experienced in real time as you look at the woodcuts, link to a common tradition in Asian Art of repeating the same figures as they move though the countryside. I hope this can be seen also as an attempt to create a visual equivalent of Buddhist and Confucian contemplation – of the relationship between humankind and nature."
The exhibition is at: Flowers Cork Street Space, 21 Cork Street, London, W1 3LZ, and runs until 20 April, 2013.
Opening hours: Mon-Fri 10am-6pm & Sat 10am-2pm.