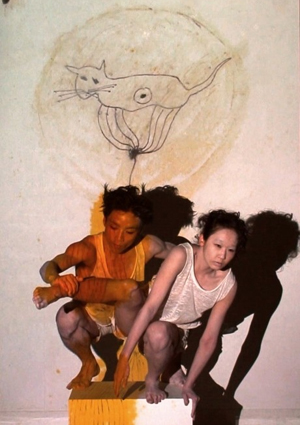 University of Brighton Faculty of Arts researcher Billy Cowie has won the Jury Prize in the Festival de la Danse Contemporaine held in Algeria for his show 'Stereoscopic Trilogy 2'. The performance merges contemporary dance, drawing, poetry and 3D technology and explores themes such as death and separation evoked through a scenography using black and white, light and shadow play on the dancers bodies, both real and virtual.
Composed of three sections, the hour-long choreography unfolds a poetic virtual universe, which Cowie describes as having a "didactic aspect" particularly in the first part 'Art of Movement', where the dancers are characterised with names such has "dead body parts" or "magnetic touch" and are preceded by explanations presented via hologram.
The last section, entitled 'Dark Rain' allows for an even deeper exploration of the surreal aspect of the piece. Stringing together highly rhythmical sequences of movements, simultaneously performed by dancer Jacqueline Clarke Mitchell and two projected Japanese dancers, the choreography is brought to a frantic conclusion under kaleidoscopic light effects.
Following the performance, Cowie spoke to an audience of visual art students, explaining the themes and methods behind the performance.
Shown at the Palais de la Culture, 'Stereoscopic Trilogy 2' was described by one critic as "offering an unprecedented visual experience in contemporary dance, based on symmetrical games between a dancer, physically present on stage, and holograms of other dancers, projected on a screen."
Performed for the first time at this year's Edinburgh Festival Stereoscopic Trilogy 2 brings, what Jacqueline Clarke Mitchell describes as "a genuine artistic challenge", for whom the main difficulty is to "transmit emotions in spite of the lack of human rapport with my virtual partners".
Cowie, who teaches Fine Art Peformance, is also participating in this year's Brighton's Artists Open Houses throughout December which will showcase extracts from his installations Art of Movement and Jenseits. These will be shown alongside an exhibition of the original artwork by Silke Mansholt which features in the live performances.
The exhibition of drawings will be open continuously and the installations (complete with 3D glasses) will be screened at half past every hour for twelve minutes.