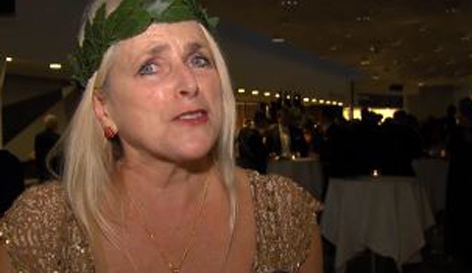 Professor of Visual Performance, Liz Aggiss, has been awarded an Honorary Doctorate by the Faculty of Fine, Applied and Performing Arts at the University of Gothenburg.
In the letter informing Professor Aggiss of the proposed conferment, she was described as being "…an inspiration in the full breadth and depth of your work as an artist and as a researcher. Your work cuts across boundaries of screen dance, live performance and interdisciplinary performance practices existing on both stage and screen, blurring the boundaries between high art and popular culture, consequently inspiring us to further expand our own practices.

"You have played an important role at the Academy of Music and Drama and have been impetus for significant developments at the academy; especially the new masters program Contemporary Performative Arts where your contribution and creativeness has been invaluable. With this appointment we would like to show our appreciation for your work and commitment to Performative Arts and our hope to continue working with you in the future."
Liz Aggiss said: "The ceremony included the presentation of a laurel wreath and a gold ring and was a very dignified affair."
"I never imagined when I embarked on this strange and wonderful career 40 odd years ago that I would still be carving out my future as an anarchic dancing Professorial pensioner, let alone with an Honorary Doctorate tucked into my sock. Isn't life marvelous!"
Professor Aggiss received the Doctorate at the University of Gothenburgs's annual conferment ceremony which was held on 25 October 2013. Honorary doctorates are a symbol of the universities appreciation of important achievements and contributions.
Image: Liz Aggiss being interviewed following the conferment of her Honorary Doctorate.