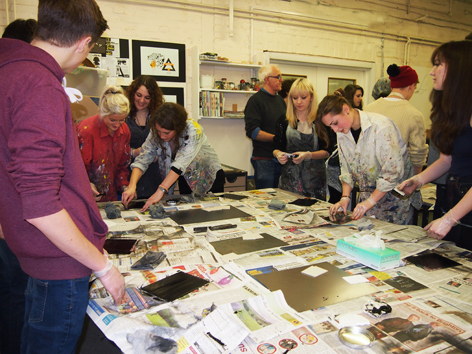 Pupils from eight local secondary schools and sixth form colleges are gaining first hand experience of the art of printmaking with the help of staff and students at the University of Brighton Faculty of Arts.
The Widening Participation programme is run by lecturer Tom Hammick with students from the Fine Art Printmaking BA(Hons) course and provides taster workshops that introduce the young people to the unique techniques and processes of printmaking. This enables them to gain expertise in an area of arts practice that they would not normally have access to.
Student Lois O'Hara, who helped coordinate the workshops said: "They were really successful and proved a great way for Higher Education practitioners to impart their skills to A level students. Tom approached each session with extremely inspiring and yet intense ways of looking at the world and the practice of creativity generally."
The pupils have use of facilities at the faculty's Grand Parade campus, which has one of the best studio workshops in the country, covering etching, screen-print, lithography and relief to newer forms of digital production. Working and sharing these facilities with the wider community gives students an opportunity to demonstrate their expertise, enhance their own communication skills and encourage a younger generation of potential artists. Watch a video about this project:
Top image: Pupils from Varndean College in Brighton participating in a workshop. Photo: Daisy Jones.