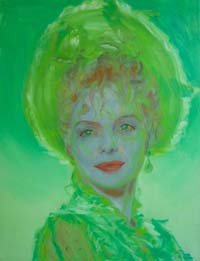 Work by three of Brighton Fine Art Painting BA(Hons) graduates is currently on show at London's Cob Gallery.
Simon Foxall, Darrell Hawkins and Alice McCabe are three of six young UK-based artists included in the Go Figure exhibition, which, as the name implies, features representations of the human figure in a range of styles.
The colourful show is a deliberate reaction to what curator Roxie Warder sees as "the rather drab state of painting currently on the British contemporary art scene."
The most instantly striking painting in Go Figure is Simon Foxall's representation of the actress Michelle Pfeiffer entitled Take Another Little Piece of My Heart. It's one of a series of celebrity portraits through which the artist examines our relationship to culture through popular media such as film and television. Foxall, who studied at the Royal College of Art and The University of Brighton, has performed and written for radio. His work here represents the more traditional end of portraiture coupled with a bold use of colour.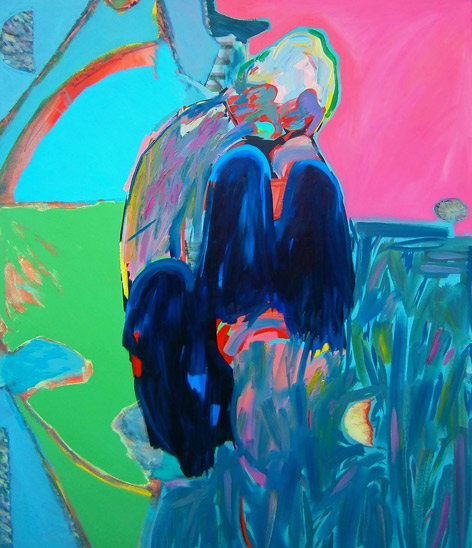 Colour is also a strong element of Darrell Hawkins' work though more abstract in nature. With paintings such as Red Head he creates a world in which forms appear to exist in a world of chaos. He cites Grayson Perry as an influence. Based in Kent, where he attended the Institute of Art before the University of Brighton, he has been exhibited and has curated exhibitions in the county as well as in London.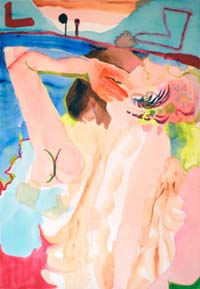 Another University alumnus, Alice McCabe lives and works in Switzerland, and performs as well as paints. Typical of her painting is Woman in Fur (left) in which forms and shapes merge with each other. Different interpretations emerge from layers.
"I think there's a lot of fun in this show," says Roxie Warder. "I think every artist has something very different about their work which not many people have at the moment."
Go Figure is at the Cob Gallery, 205 Royal College St, London, NW1 0SG. 

The exhibition runs until 24 August, 2014.
Images: Take Another Little Piece of My Heart by Simon Foxall and Woman in Fur by Alice McCabe. Images courtesy of The Cob Gallery.