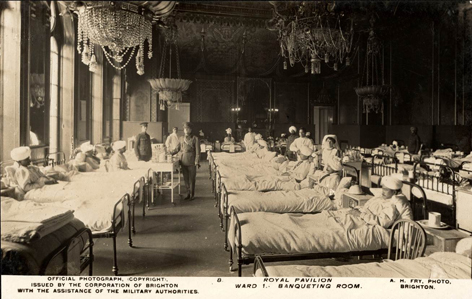 Local school pupils have been learning about how the Royal Pavilion was used to help soldiers in the Indian Army recover from their injuries during the First World War.
The schools initiative, which is part of the University of Brighton's Widening Participation (WP) programme, gives pupils a chance to examine newspapers, newsreels, official photographs and censored letters from the wounded held in the Pavilion archive.
Between 1914 and 1916, the Pavilion, and other buildings in the city, including what is now Brighton General Hospital, were used to treat over 14,000 soldiers from the Indian subcontinent who had fought on the battlefields of Northern France.
With the help of Humanities students, the pupils are asked to consider whether the use of the Pavilion in particular was used as a propaganda exercise designed to maintain support for the war in imperial India, or a sign of the complex relationships which existed within the British Empire between imperial rulers and colonial subjects.
Humanities lecturer and WP coordinator Jonathan Watson, who has run five of the sessions to date, said: "By exploring this question, and giving those who take part the opportunity to think deeply and critically about the empire, war and how we can explore the past through sources which have a clear political agenda. It also gives our student ambassadors a great chance to develop their teaching skills through supporting school groups."
Commenting on the day, Andy Mortimer, interim principal of Bexhill High school said: "We are most grateful to the University of Brighton for their support in this project and the students were totally motivated and engaged by the work they carried out".
Photograph: Interior of the Banqueting Hall of the Royal Pavilion during WW1, courtesy of Brighton Museum and Art Gallery