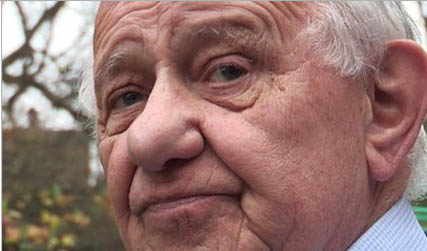 Award-winning documentary filmmaker Daisy Asquith has just graduated from the University of Brighton Faculty of Arts with an MA in Cultural History, Memory and Identity with distinction. Daisy's latest film was made in the context of her research project for the MA and was recently screened on UK television.
The documentary, entitled 'Britain's Holocaust Survivors', records the memories of a small group of survivors filmed in everyday life situations. It explores the ways that the concentration camp experience still plays out in their own lives and those of their families, and how they live with this, and share their testimonies of horror and hope.
Daisy Asquith's work has included documentary films on children in the care system, children's entertainers and arranged marriages. In 2009 a film for BBC4 followed actress Liz Smith [Vicar of Dibley, The Royle Family] on her first proper holiday.
Noted for her warm documentary style and empathetic portrayals of her subjects, Daisy's new film takes viewers into the homes of a small group of extraordinary survivors, telling their stories with sensitivity, humour and compassion.
While many of their testimonies are horrific, they also provide moments of hope and humanity; a daughter's heartfelt pleas to an SS officer successfully saving her mother from the gas chambers; and the blossoming relationship between a young woman and a British soldier who helped liberate the Bergen-Belsen concentration camp.
This film is described by Channel 4 as "An important historical and visual document, a testimony to the strength, determination and character of Holocaust survivors, a contemporary benchmark and possibly the final chance to hear from those survivors living in Britain".
Daisy Asquith's study at the University of Brighton is yet another example of how our Faculty of Arts shares cross-disciplinary practices; historians and critics inform and complement the work of our makers and artists. The Cultural History, Memory and Identity MA emphasises the close relation between academic study and broader cultural interest in the past and its significance in everyday life. The programme enables investigation of a wide range of cultural forms and practices including oral history, life-story work and auto/biography, archival collections of documents, photography and film.
More about Daisy Asquith, film-maker, at http://www.daisyasquith.co.uk/

The film can be viewed in full at: www.channel4.com/programmes/britains-holocaust-survivors/4od#3472746