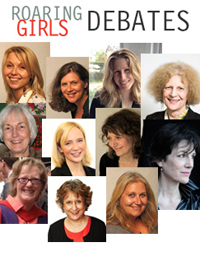 A Royal Shakespeare Company event inspired by 'Roaring Girls' season and Midsummer Mischief festival
Inspired by the 'Roaring Girls' season in the Swan Theatre, a series of Jacobean plays revealing some of the great parts written for and about women and the four new plays in the RSC's Midsummer Mischief festival that respond to the provocation: "Well-behaved women seldom make history". Expert speakers and commentators discuss what it means to be a contemporary roaring girl, the role of feminism in the staging of the Roaring Girls season and the development of the feminist movement over time.
A debate exploring the context in which the four classical plays of the 'Roaring Girls' season were written and their legacy. It will feature directors and writers from the season and Midsummer Mischief festival, with commentary by Dr Kate Aughterson. Chaired by Erica Whyman, Deputy Artistic Director of the RSC.
Dr Kate Aughterson is the Academic Programme Leader for Literature, Media and Screen at the University of Brighton. Her research interests focus on seventeenth century drama, notably with regard to gender and literature, sexuality and literature, and performance culture. She is the author of Renaissance Woman (1995); Aphra Behn: The Comedies (2003) and Shakespeare: The Late Plays (2013).
Jo Davies, who directs The Roaring Girl, began her career as an RSC Assistant Director and recently directed Opera North's acclaimed production of Carousel. She is currently working on Silly Kings for National Theatre Wales, which opens in Cardiff later this year.
Polly Findlay, made her RSC directorial debut with Arden of Faversham, recently directed a new play by Tim Price at the National Theatre Shed, the Olivier-award winning Derren Brown: Svengali and Antigone for the National Theatre. She also directed War Horse for the National Theatre in Berlin.
Timberlake Wertenbaker, whose new play The Ant and the Cicada features in the Midsummer Mischief festival, is one of Britain's most celebrated playwrights and is currently the Chair in Playwriting at the University of East Anglia, artistic adviser to the Royal Academy of Dramatic Art and on the council of the Royal Society of Literature. She has written and translated over 30 plays including Our Country's Good, Three Birds Alighting on a Field, Antigone and Our Ajax.
More information
.