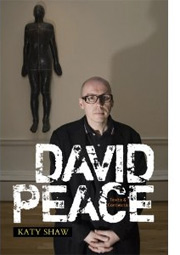 David Peace: In Conversation
Tuesday 17th May 2011 6pm (Mezznine Boardroom) Grand Parade Campus, University of Brighton
Tickets strictly limited

The Faculty of Arts hosts a rare appearance by award winning contemporary British novelist David Peace this May. David Peace is the author of the Red Riding Quartet and The Damned United as well as GB84 and the Tokyo Trilogy. Recently translated onto the big screen by Channel 4 and Sony Pictures, the novels of David Peace offer occult accounts of twentieth-century British history.
Offering a unique opportunity to engage with this rising star of contemporary British literature, the event will combine an in-depth interview with author readings and an open Q&A session, hosted by Dr Katy Shaw, who, in December 2010, launched the output of recent research on David Peace in her book David Peace: Texts and Contexts.
The event is open to all staff and students but tickets are strictly limited.
Please email K.Shaw@brighton.ac.uk to book.
Dr Katy Shaw
Dr Katy Shaw appeared on the BBC's 'Culture Show' speaking about David Peace's work. Over three days of filming in Manchester and Leeds, Katy worked with a BBC production team to produce a prime-time BBC One documentary exploring the inter-play of fact and fiction in Peace's work. Drawing on interviews from other contemporary crime writers as well as from the author himself, the programme was designed to ignite debates about the author's work and its relation to national history.
The documentary anticipates the publication of Katy's new book David Peace: Texts and Contexts (Sussex Academic, 2010), the first academic study of this leading light of British contemporary literature. Ian Haywood, author of Working-Class Fiction, says the book is "a lucid and informative introduction to a controversial rising star of contemporary British fiction, and an invaluable guide to Peace's disturbing vision of the dark underside of Thatcher's Britain."
David Peace: Texts and Contexts provides a challenging but accessible critical introduction to David Peace's work through a detailed analysis of his writing, as well as the socio-cultural contexts of its production and dissemination. In it, Katy Shaw explores Peace's attempts to capture the sensibilities of late twentieth century society and contributes to an ongoing debate in the media about Peace's representations. Influenced by critical theory, the text is the first critical resource concerning David Peace and covers the full body of his writings to date, the debates this work has generated, and the often contentious representations offered by his novels.